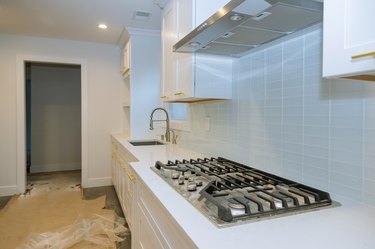 Stainless steel products have a unique appeal because their appearance looks five-star-chef quality, while their performance appeals to the everyday home cook. Although stainless steel products are easy to use, when it comes to cleaning them, you need a reliable stainless steel stove top cleaner. Whether you're trying to figure out the best way to clean stainless steel sink appliances or you're just looking for a reliable stainless steel stove top cleaner, always make sure you look at your owner's manual to see what you can and can't use.
Stainless Steel Products
According to the British Stainless Steel Association, stainless steel is an alloy (a metal made by combining two or more metallic elements) of iron and has a minimum of 10.5 percent chromium. The addition of chromium prevents further corrosion on the surface of any stainless steel appliances. Stainless steel products can also have differing amounts of carbon, silicon and manganese.
When using stainless steel stove top cleaner products, you have to be careful. Although stainless steel is more resistant to corrosion than other carbon and steel products, it can still corrode under harsh conditions. That's why you have to be wary of the products you're using when cleaning stainless steel appliances, no matter how dirty they are.
Stainless Steel Cleaning Basics
Stainless steel products are becoming increasingly popular because of the luxurious look they provide, but there are some downsides to stainless steel. You have to keep a cleaning schedule when it comes to stainless steel because these appliances are known to show fingerprints, smudges, water spots and streaks. According to Consumer Reports, when cleaning stainless steel, make sure you're not using abrasive cleaners, scouring powders, steel wool, bleach or ammonia because these can damage the stainless steel appliance's finish.
Don't forget to always check your owner's manual or the manufacturer's website before you clean a stainless steel product. Each brand has a list of products you should and should not use on their appliances.
Stainless Steel Stove Top Cleaner
According to the Cleaning Institute, although you want to keep stainless steel appliances clean in general because they'll look nicer, you also want to keep them clean, so the oxide coating doesn't wear off. Stainless steel has a reputation that it will hold up for a lifetime, but if the hard oxide coating wears off, then the surface of the stainless steel appliance is no longer protected.
According to the Cleaning Institute, if the oxidation process is hindered, then corrosive materials can ultimately destroy the metal's corrosion protection. For this reason, when you clean stainless steel you have to be careful about the products you use and grease buildup.
If you have built up grease or cooked-on food, you can use a nonabrasive cleaning powder or paste to clean the appliance. To make the paste, all you need to do is combine baking soda and water. Then rub the paste on the grease with a sponge or nonabrasive pad. Make sure to always rinse off all of the paste and towel-dry the surface when you're finished.
Everyday Stainless Steel Cleaning
For everyday cleaning, you can wipe the stainless steel surface with a soft sponge that is soaked in warm water. Make sure to towel-dry the surface, so you don't get water spots. Water spots on wet appliances are inevitable because they come from the minerals in the water, so it's essential that you always towel-dry your stainless steel appliances. If you do have more stubborn dirt, but it's not as thick as grease, you can use mild dish detergent and water to clean your stainless steel cooktop.