Things You'll Need
Cutting tool (weed cutter, hand scythe, machete or long-handled shovel)

Garden or beach rake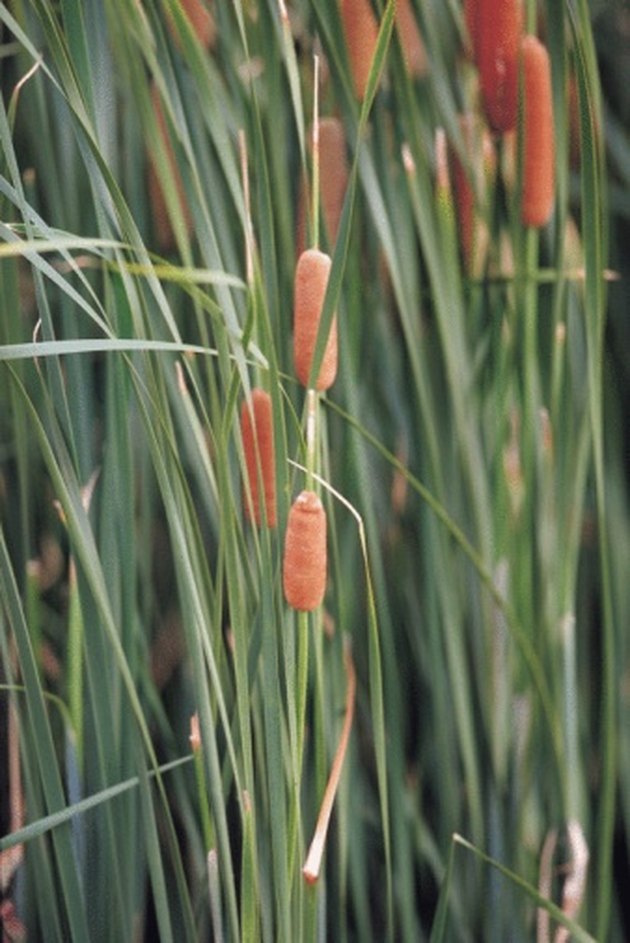 While cattails may provide a natural look to a backyard pond, left untouched they will spread and soon completely take over the pond. To get rid of the cattails, you can use a commercial herbicide, but this can lead to the contamination of the pond water and even the surrounding groundwater. You can also try pulling up the cattails, but this tends to be extremely labor intensive. As an alternative to either of these methods, cutting down the tops of cattails two to three times a year can reduce cattail stands by 95 to 99 percent in a year.
Step 1
Using your cutting tool, cut the cattails about 8 inches below the surface of the water, as this has been found to be the most effective way to eliminate cattails.
Step 2
Use the rake to clear the cut cattails from the water.
Step 3
If any cattail stems remain above the water, recut them below the water's surface.
Step 4
As the cattails return, repeat steps 1, 2 and 3. By doing so, in a single growing season, you'll cut the cattails approximately two to three times.
Tip
Ensure you cut the cattails before they produce flowers, to increase the success rate of cattail reduction.
If the cattails are far from the shore, a pair of wading boots will help you reach them.
---
Living in Minneapolis, Minn., Jan Radder has over eight years of experience in early childhood and elementary education. He also also spent time working in the low-budget film industry. Radder earned a Bachelor of Arts from Eugene Lang College in 1992 and graduated from Augsburg College's Licensure Program in elementary education in 2001.