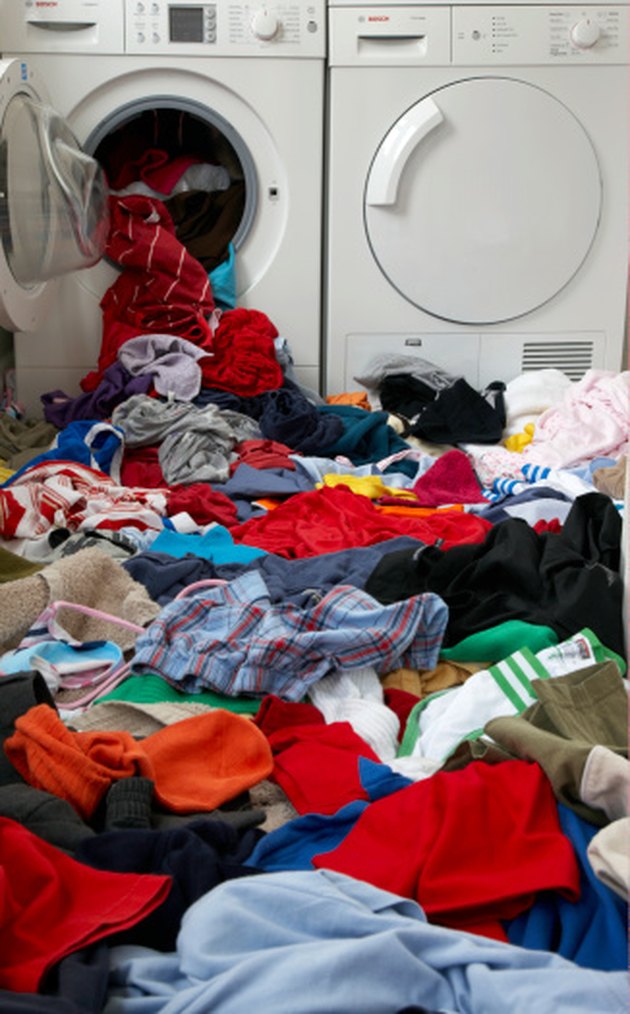 The scientists behind Tide started developing the laundry detergent in the 1930s, according to the American Chemical Society. Years later, around the 1940s, Tide made its way to the market. As of 2011, Tide sells over 20 types of laundry detergents ranging from all-purpose cleaner to formulas specialized for people with allergies.
Types
As of 2011, Tide sells 19 varieties of liquid laundry detergent and 10 varieties of powder laundry detergent. The company sells both liquid and powder detergents formulated for high efficiency washing machines. The detergents include both all-purpose cleaners and specialized cleaners. A few of the liquid and powder detergents also carry Febreze fabric refresher or Downy fabric softener, two products also created by Tide's parent company, P&G.
Features
Many of Tide's laundry detergents have additional features beyond basic cleaning. For example, the Tide Free and Gentle line excludes added dyes and perfumes, which can cause skin irritations on people with sensitive skin. Tide Free and Gentle comes in both liquid and powder. Tide Coldwater Liquid Laundry detergent works in cold water settings. Washing clothing in cold water helps prevent shrinkage. Cold water also uses less electricity to run per load than hotter water settings. Ultra Tide Plus Bleach Powdered Detergent has bleach built-in for keeping whites bright. Tide Pure Essentials Baking Soda Liquid Laundry Detergent includes baking soda, which naturally helps remove stains and fight odor.
Ingredients
Tide detergents contain several synthetic ingredients. The amount and type of ingredients vary by the type of detergent. For example, a few of the ingredients in Tide's original formula include amylase, ethanol, hydrogen peroxide, lauramine oxide, sodium alkyl sulfate and water. Amylase, an enzyme, helps break down stains on clothing. Ethanol works to bind the other ingredients together. Sodium alkyl sulfate, a surfactant, works to remove oil- and grease-based stains on clothing. Detergents combined with other products such as Downy or Febreze will have more ingredients.
Use
Tide liquid detergents work in the washing machine and for washing clothing by hand. Tide powder detergents work best in the washing machine. High efficiency washing machines require special detergents. You should only use a Tide detergent specially formulates for HE washing machines. When washing clothes with Tide laundry detergent, follow the manufacturer's instructions listed on the back of the product. Using the product incorrectly could damage your clothing or your washing machine. Store the detergent on a high or locked shelf, away from pets and children. Since the product contains chemicals, it could cause physical harm if swallowed.
---
Amelia Jenkins has more than eight years of professional writing experience, covering financial, environmental and travel topics. Her work has appeared on MSN and various other websites and her articles have topped the best-of list for sites like Bankrate and Kipplinger. Jenkins studied English at Tarrant County College.