Things You'll Need
Ratchet and socket set

Wrench set

Torx wrench set

Feeler gauges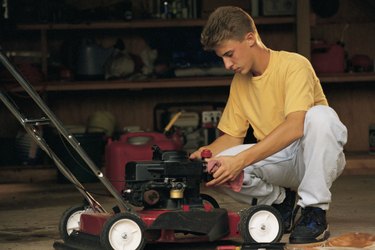 In 1953, Briggs & Stratton developed the first lightweight aluminum engine for lawn and garden applications. The Briggs & Stratton 18.5 horsepower Intek overhead valve engine features a cast iron sleeve, anti-vibration system, integrated oil filter and heavy-duty upper bearing. If you find that your engine becomes difficult to start, proper adjustments to the intake and exhaust valves may be necessary. Adjusting the valves for your 18.5 horsepower Briggs & Stratton engine is a moderately easy task, provided you have the required tools.
Step 1
Open your lawn tractor's hood. Locate the square-shaped valve cover marked "OHV," mounted on the front side of the engine, secured to the engine block with four bolts.
Step 2
Use an appropriate size socket to remove the bolts securing the valve cover to the engine block. Lift the valve cover off the engine, exposing the rocker arms and valve springs.
Step 3
Reach underneath the tractor, directly below the engine and rotate the engine's crankshaft until the bottom (intake) valve spring fully compresses.
Step 4
Hold the top (exhaust valve) rocker arm nut in place using an appropriate size wrench. Use an appropriate size Torx wrench to loosen the small Torx screw located in the center of the top rocker arm nut.
Step 5
Insert a feeler gauge strip marked ".oo4" between where the top side of the exhaust valve spring makes contact to pivot point of the rocker arm.
Step 6
Tighten the exhaust valve's rocker nut with your wrench until you can barely move the feeler gauge between the gap of the rocker arm and valve stem. Continue holding the rocker arm nut with your wrench and tighten the center Torx screw after achieving the proper adjustment.
Step 7
Rotate the engine until the top (exhaust) valve spring fully compresses. Repeat the same procedures outlined in steps 4 through 6 to adjust the lower (intake) valve.
Step 8
Reinstall the valve cover to complete the process.