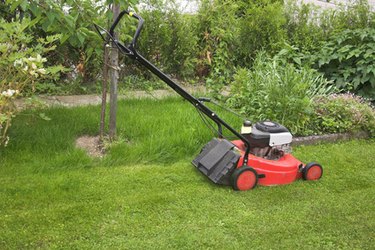 Walbro is a manufacturer of small-engine carburetors and their product lineup includes two-cycle, four-cycle and diaphragm carburetor models. The Walbro carburetor is commonly used on lawn mowers, chain saws and other equipment powered by small engines. Tecumseh is a popular brand that uses various Walbro carburetor models on select Tecumseh products, including Walbro's WT, WHG and LMK models. Walbro carburetor identification is a straightforward process which requires locating the Walbro identification number stamped on the outside body of the carburetor.
Step 1
Locate the carburetor in question on the engine. On small engines, the carburetor is a prominent feature of the engine, bolted to the side of the engine with a fuel line attached to it, and an air cleaner covering it.
Step 2
Search the carburetor body for the Walbro carburetor identification numbers. According to the Small Engine Advisor site, Walbro identification numbers are normally found on the outside body of the carburetor. Walbro carburetor identification codes are a combination of letters and numbers, WT-160B, for example. Also, the Walbro name is sometimes prominently cast on the carburetor body.
Step 3
Determine the Walbro carburetor model using the model identification number. The Walbro computer model in question is identified in the model identification number. Therefore, a carburetor with the model number "WT-160B" is a Walbro WT-series carburetor.