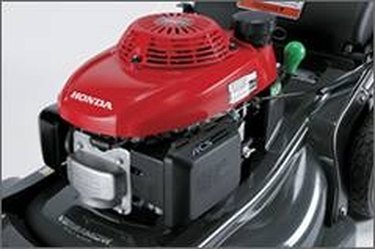 Changing the oil in your Honda lawnmower is just as important as changing the oil in your vehicle. Regular oil changes help your lawnmower running more efficiently and also make it last longer. Refer to your owner's manual for recommendations of specific oil to use in your mower.
Step 1
Start the engine and run the mower until the engine is warm; then shut off the engine.
Step 2
Turn the fuel valve to the "Off" position to reduce the possibility of leakage.
Step 3
Wipe the oil-fill area clean, then remove the dipstick.
Step 4
Place a suitable oil container next to the mower and tilt the mower to the right side. Allow the oil to drain completely. Wipe away any excess oil from the fill area with a rag.
Step 5
Fill with recommended oil. SAE 10W-30 oil is recommended for general use. Use the dipstick to check the oil level. Do not overfill.
Step 6
Replace the oil cap securely.