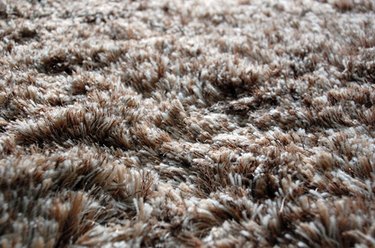 Even among those who regularly vacuum their carpets and take good care of their upholstery, deep cleaning is occasionally a necessity. High-traffic areas in particular are prone to soiling and dirt buildup. The Bissell Little Green ProHeat cleaner deep cleans both carpets and upholstery using hot water extraction. In this method of cleaning, pressurized hot water and carpet cleaner are applied to the carpet while the dirty water and cleaner are simultaneously suctioned back into the machine.
Preparing the Bissell Little Green ProHeat Machine for Use
Step 1
Remove the clean/solution tank from the base of the Bissell Little Green ProHeat Machine, and unscrew the black cap. Fill to the "Formula" line with 2X Little Green Formula.
Step 2
Add hot, but not boiling, tap water to the tank until the liquid reaches the line labeled "Water." Replace the cap, turning it clockwise until tight, and slide the tank back into the base of the machine.
Step 3
Remove the hose from its onboard storage and attach your desired cleaning tool to the spray trigger at the end of the hose. Press the tool firmly onto the spray trigger; the button trigger will snap into place when the tool has been securely attached to the vacuum hose.
Step 4
Unwrap the power cord and plug it into a grounded power outlet before moving the power switch to the "On" position. Press the water heater switch to "On" and wait for the light to come on -- approximately 30 seconds -- indicating that the water has reached the correct temperature.
Step 5
Press the spray trigger for approximately five to 10 seconds to allow the heated water to move through the system. Hold the trigger until the spray begins and then release.
Cleaning With the Bissell Little Green ProHeat Machine
Step 1
Spray cleaning solution from the spray trigger onto the area to be cleaned, holding it about 1 inch from the surface.
Step 2
Scrub the surface gently with the brush tool while continuing to spray the cleaning solution. If you are using the TurboBrush attachment, make sure the switch has been turned to the "Brush" position.
Step 3
Press firmly downward onto the tool as you pull it toward you. Continue to apply pressure until you can no longer see dirt coming up through the clear section of the brush tool. If you are using the TurboBrush attachment, make sure to turn the switch to the "Suction" position for this step.
Step 4
Stop pressing the spray trigger and allow the Bissell Little Green ProHeat to suck up any excess moisture from the carpet or upholstery. Continue to press down and pull the brush tool toward you during this step. Repeat until the surface is dry.