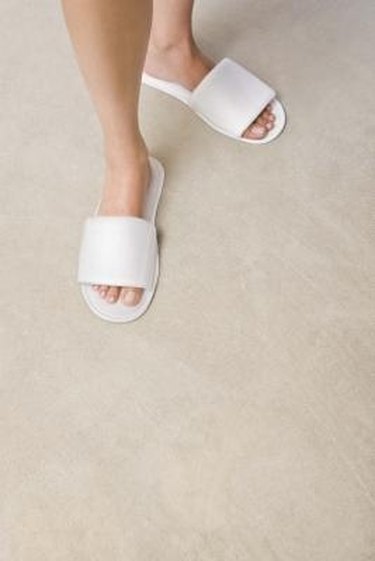 The Bissell Little Green deep cleaner is made to deep clean and remove stains from carpet and upholstery. Its compact size makes it easy to transport to different spots in the house. You can even use it to clean your vehicle upholstery. Once you use the Bissell Little Green, it's important to clean the machine itself to get rid of dirt and grime that has built up during the cleaning process.
Step 1
Turn the power off on the Bissell Little Green. Unplug the machine from the electrical source.
Step 2
Unlatch the dirty water tank latch, then pull up on the tank to remove it from the unit. Empty out the contents of the tank. Rinse out the tank thoroughly with clean tap water. Scrub the inside of the tank, if necessary, with a soft-bristled scrub brush to dislodge any hard-to-remove grime.
Step 3
Push down on the button lock and pull the cleaning tool off of the spray trigger. Rinse the spray trigger under warm tap water.
Step 4
Clean the spray nozzle with warm water and a soft-bristled scrub brush. Rinse it off under warm water to remove any loosened debris.
Step 5
Wipe down the entire exterior of the Little Green with a damp rag. Lay all parts on a towel to air-dry completely.