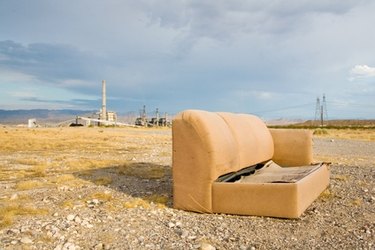 Whether you're moving outside of Chicago or purchasing replacement furniture, donating your used items is a way to help someone in need. It also helps the environment by keeping the furniture out of a land fill. The city of Chicago is home to a number of locations that will pick up your used furniture directly from your home or business. Arranging pickup requires only a simple phone call (phone numbers are as of September 2010).
Step 1
Call the Metropolitan Division of the Salvation Army, which serves the Chicago area. Donations of furniture go through the Salvation Army Adult Rehabilitation Centers. You can request furniture pickup by calling 1-800-728-7825.
Step 2
Call the Brown Elephant Resale Shop at 773-549-5943 to request furniture pickup. The store is a source of funding for the Howard Brown Health Center. Furniture not accepted includes hospital beds, mattresses, box springs, pianos, bunk beds, platform beds and any upholstered furniture with tears, odors or stains.
Step 3
Call the Society of St. Vincent de Paul Archdiocesan Council of Chicago, which assists the needy in Cook and Lake counties. The office is reachable at 773-779-6700 and will assist you with scheduling your furniture pickup. Any undamaged furniture is accepted.
Step 4
Call Second Chance Thrift Store at 312-997-2222, and request extension 221. This connects you to someone who will arrange your furniture donation pickup. The store accepts any furniture that is undamaged except hospital beds, waterbeds and pianos. Donations assist the Cathedral Shelter of Chicago.
Step 5
Call the Economy Shop, an organization that sells donated items to raise money for various Chicago charities. Furniture items must be in near mint condition in order for acceptance. For item pickup, the organization must first inspect the furniture. By telephoning 708-383-2449, you may set up an inspection time.
Tip
Assess the condition of your furniture before calling. If something is in bad condition, chances are, it won't be accepted.