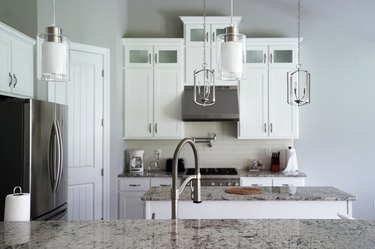 If you are remodeling your kitchen, you may be tempted to simply get rid of your kitchen cabinets. Before you haul your old cabinets out to the trash bin, though, you might want to consider a better alternative that gives your old cabinets the opportunity for new life. Opting to donate your kitchen cabinets is a way to recycle household items and go green. Even if your kitchen cabinets are no longer your preferred style, they may work in someone else's home, or they can be refinished. Giving away your kitchen cabinets saves you the cost of a contractor's doing the work, and you won't have to rent a dumpster since many organizations offer furniture donation free pickup. Donating kitchen cabinets is a great option because not only does it help others, it can also mean less work for you in your remodeling project. According to Habitat for Humanity, recycling kitchen cabinets will reduce construction waste.
Step 1: Assess Your Cabinetry
Verify the condition of your cabinets. To donate your kitchen cabinets, most charities require that the cabinetry be a matching set. The charity might not accept missing drawers or doors in their furniture donation free pickup. Donations should be in good working order even if they aren't pretty. Decide whether you will be donating the sink and countertops as well. If your cabinets are old, someone may still want them to use in their laundry room or garage for extra storage.
Step 2: Schedule a Donation
Call an organization like Habitat for Humanity to donate your kitchen cabinets. Habitat for Humanity helps people in need build their own houses and runs Habitat for Humanity ReStores for things they don't install directly into the houses they build. Since Habitat for Humanity usually offers furniture donation free pickup, they will usually take down the cabinets themselves and haul them away for you. Habitat for Humanity ReStore is where the organization sells donated items to benefit their cause, which means that even if your cabinets can't be used in a Habitat home, you can still donate them to the Habit for Humanity ReStore.
Step 3: Advertise Your Donation Online
List your cabinets on a free site such as Freecycle. You can also write an ad for the free section of Craigslist. If you can't find a charity that will take your cabinets, branch out. Place a free ad saying that you have kitchen cabinets for donation. If you want the cupboards to go to someone in need, ask users to share their stories. Choose your favorite story, but keep a backup in case something falls through. Schedule a pickup time. If you aren't comfortable letting strangers into your home, leave the cabinets by the curb.
Step 4: Prepare Your Cabinet Donation
Empty out the cabinets. Take out all of your household items on the day the cabinets are removed so there aren't any delays. It might not be necessary to scrub the cabinets, because they'll probably get dusty in transit. Supervise the workers that remove your cabinets to make sure they don't damage your kitchen.
Step 5: Ask for a Receipt
Most charities will provide you with a receipt when you donate kitchen cabinets. This can save you money at tax time, so ask for a receipt and remember to hold on to it.