It's more than the view that has to be taken into consideration when making room for new windows. The right window for a space increases its aesthetic and cuts down on energy waste. If you have the good fortune to be replacing windows or building a home from the ground up, you need to spend some time considering the right window for the style you hope to create as well as what energy needs you'll have.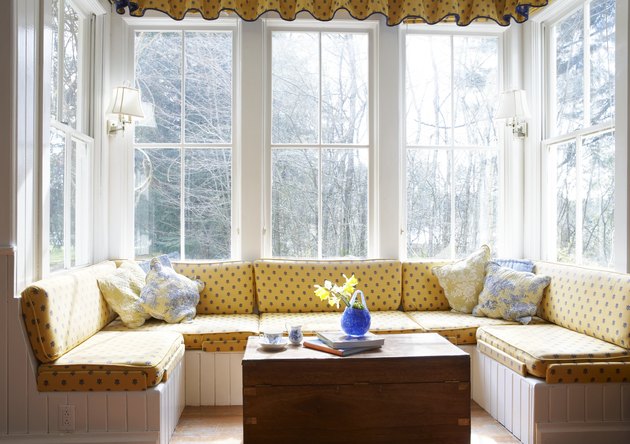 credit:
Ivan Hunter/DigitalVision/GettyImages
Replacing old windows can be a cost-effective endeavor. Modern windows are much more energy efficient than older models. New windows that are chosen well can also add warmth to cold rooms with more natural light allowed to flood the space or keep out drafty winds during cold nights. The most common types of windows include casement, stationary, slider, single-hung, double-hung, transom, bay and awning windows.
Casement windows are probably the most popular for the old-fashioned vibe they offer with a crank handle that opens the window outwards. Bay windows give a striking design element to the exterior of the home and open up the interior of a room. Transom windows tend to be small and installed above doors to let in more natural light. They come in a wide variety of shapes to add to the exterior design of the home. Stationary windows, or picture windows, don't open for fresh air but allow a large swath of natural light to fall into a room. Slider windows open to the left or right and are good for those who simply want a more energy-efficient window. In single-hung windows, the top frame is fixed in place while the bottom frame can be slid up to open it. Double-hung windows can be opened by sliding up to allow for a cool breeze or sliding down for security and ventilation at night. Awning windows open outward from the bottom and are hinged at the top in a louvered style. These give the look of cottage charm.
Tips for Choosing Windows
Look for windows that have proven results for your climate. If you live in an area that's exposed to extreme temperatures and high winds, look for windows that perform well under those conditions, such as low temperature and wind resistant. Don't think that just because a window is pricey it's better than its less-expensive counterparts. When shopping for windows, you'll come across numbers such as U-factor, which ranges from .20 to 1.20. The lower number means the window is better at keeping heat in and cold out. Solar heat gain coefficient and the visible transmittance numbers range from 0 to 1. For solar heat gain, the lower the number, the better the window is at blocking heat from the sun. The lower the visible transmittance number, the less natural light it allows into your home.