Cigarette smoke is not only harmful to your health, it is also harmful to your house. Over time, the smell of smoke permeates everything including walls and ceilings, turning them a yellow color as a result of the tar that is in the smoke. Getting rid of the smell and the tar takes some effort, but it is not a lost cause.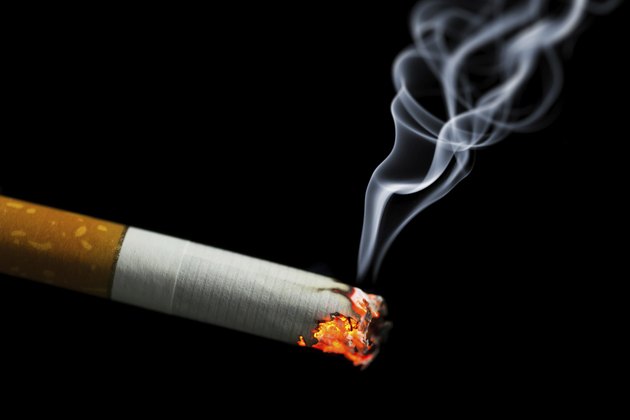 credit:
nikkytok/iStock/Getty Images
Step 1
Remove all furniture, pictures and window coverings from the room you need to clean. Cover the entire floor with plastic or painter's dropcloth. Seal the plastic at the bottom of the baseboards. The dropcloth prevents damage to floor coverings from the tar and cigarette stains that run down the walls and drip from the ceiling during cleaning.
Step 2
Set up the stepladder to reach the ceiling and top of the walls. Put on your rubber gloves and safety glasses. Fill 1 bucket with the soot remover. Fill a second bucket with hot soapy water and a third bucket with hot water. Dip your sponge mop into the bucket of soot remover and squeeze out the excess. Begin with the ceiling, including any crown molding, and wash a 4-by-4 foot area at a time. After cleaning the small area, dip the mop into the hot soapy water and re-wash the same area before cleaning the next area. Repeat the process working across the wall and ceiling until they are clean.
Step 3
Dip a rag into the clean water and ring it out. Use your rag to rinse the washed area. Repeat this process until the ceiling and all walls have been rinsed.
Step 4
Clean all of your trim in the same manner as used for washing the ceiling and walls. This includes window trim, door trim, doors and baseboards. Use the same method to clean wood paneling and wallpaper. But avoid oversaturating wallpaper, as excessive moisture can cause it to come loose from the wall. Use damp rags to clean and rinse the wallpaper. Allow all cleaned areas to dry overnight before painting.
Priming, Painting and Sealing
Step 1
Leave the plastic or dropcloths on the floor to protect them from splattering and drips. Open a window to allow ventilation in the room you are working in and put on the NIOSH-approved respirator and filters before you begin using the oil-based primer. Prime all cleaned surfaces including the room's trim using a paintbrush and paint roller.
Step 2
Allow the primer to dry for the recommended amount of time, which is usually 2 to 4 hours. When dry, paint all walls and ceilings with the latex paint of your choice.
Step 3
Seal cleaned paneling with an oil-based polyurethane. The polyurethane acts just like an oil base primer. Use a foam roller pad to cover large areas and your paint brush to cover areas that cannot be coated with the roller pad.