The workhorse of the kitchen, craft room and work shop, paper towels are flexible, durable and decidedly a first defense for both big and little spills. The unfailingly handy paper towel is a fairly new invention. It has gained in strength and functionality since its accidental inception more than 100 years ago.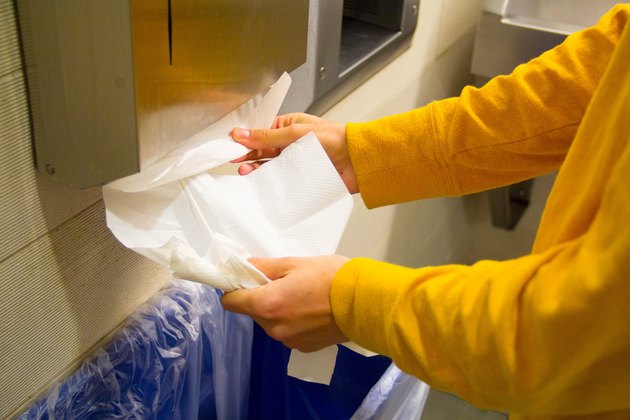 credit:
jeremyiswild/iStock/GettyImages
The large, absorbent paper towel started out with a defective delivery. The Scott Paper Company rolled out a toilet tissue at 1,000 sheets per roll. The 10-cent roll was a hit for the company in 1879, and the company backed up its new product with tons of advertising that put a spotlight on what had been an embarrassing issue contained to the water closets. As pressure mounted, the Scott brothers churned out plenty of tissue in a timely manner until a railroad car full of faulty paper arrived at their Philadelphia plant. The pre-rolled paper was entirely too thick for tender bums. The inventive brothers heard a teacher used a roll of paper in class so germs wouldn't spread from the toilet to runny noses. Arthur Scott perforated the paper into towel-size sheets and sold them to restaurants, hotels and other public gathering places. By 1931, they created a new line for kitchens that were larger at 13 inches wide and 18 inches long. It took some time before paper towels earned a place over cloth towels in the kitchen. But by the middle of the 19th century, paper towels had earned their keep in households across the country.
Paper towels are basically a collection of wood, cotton or other plant that has cellulose fibers. Cellulose fibers are large molecules that are bound with many small molecules, which are all linked together to create a strong bond. The smaller molecules are sugar, which is the key behind how absorbent a paper towel can be. As liquid meets the paper towel, the water molecules cling to the cellulose fibers.
What Makes a Paper Towel Powerful?
Although all paper towels are absorbent, some are slightly better than others when you take in to account what makes them unique. Quilting assists in absorbency, so the more quilted or stitched shapes are pressed into the paper towels, the more water is attracted and whisked away from a surface.
A 2-ply towel can provide a type of back roll that is often used in applying paint. The first ply absorbs and the second ply sucks up leftover liquid and allows for a drier surface at a faster pace.