Water resistant and glorious to look at, ceramic tiles can create a fabulous accent or floor that will last a long time. The affordable tile is durable and requires little maintenance if placed and treated correctly. Installing a ceramic tile either on the floor, wall or other surface takes the right tools and a little patience.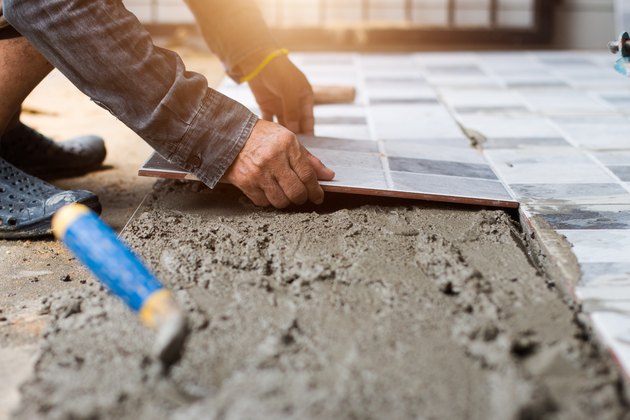 credit:
krisanapong detraphiphat/Moment/GettyImages
Versatile and strong, ceramic tile can be used in a wide variety of ways. Glazed ceramic tiles are ideal for humid environments such as bathrooms and kitchens due to the protective layer. The glaze keeps water from penetrating the tile. Glazed tiles are also ideal for high-traffic areas that get a lot of scuff marks or dirt that can collect from swinging doors and dirty shoes.
Unglazed tiles need sealing in order to keep them in their pristine state. They will need continued maintenance to keep the sealant in good shape after years of use. For a more durable flooring or countertop, seal the grout as well.
Gather all the necessary tools before popping open the container of powdered grout to mix it with water. Make sure the area you plan to put the ceramic tile down on is level and free of dust and debris. An uneven surface will lead to broken tiles and crumbling grout. If the tile is to be put in a space that gets a lot of water, such as a bathroom or kitchen, make sure that the surface has water-resistant backer board, plywood or concrete. Clean and plumb all surfaces before measuring to know if you need to cut any tiles. Cut all tiles before you begin the project so that any hiccups can be easily confronted without having to conduct a full stop on the tile project.
How to Install Ceramic Tile
Find the center point and square the room if you are planning on installing a ceramic tile floor. For walls, find the top line level. Lay the tiles dry on the area so you can assess if you like the final result. Use spacers to make the tile even across the entire area. Make sure the grout has enough space to adhere to the floor and the tiles so that the structure is sturdy. Work from the outside edge, one row at a time from the top or the bottom. Work in small quadrants and take your time. Use a waterproof adhesive and make a smooth layer with a square-notched trowel.