If the whirr in your lawn mower is barely a buzz or the wheels on the machine simply don't want to go round and round, it may be a good time to service the transmission. Surprisingly, the project doesn't take more than an hour to get the lawn mower back on the grass if the transmission just needs a little TLC. Troubleshooting a transmission when you take apart the machine to service the part can help you to extend the life of the lawn mower.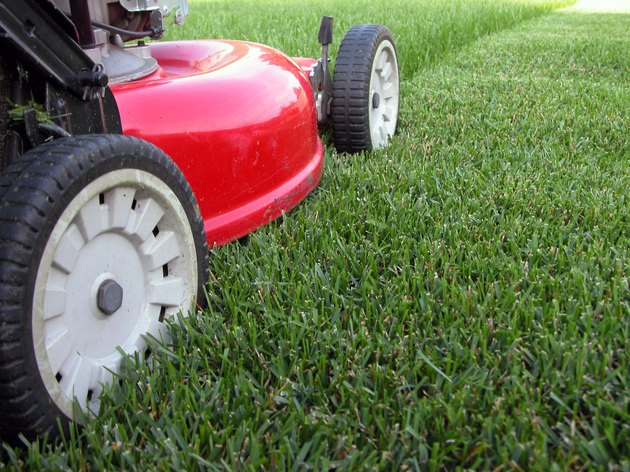 credit:
terminator1/E+/GettyImages
It's always a good idea to give a hardworking lawn mower a once-over at some point every year. At the beginning of the mowing season, check all the oil levels and give the under carriage a good wipe down to give the machine a fresh start. After the first revving up of the lawn mower, change the oil after 5 hours of mowing. During the summer, change the oil after every 50 hours of use. If the machine begins to sputter or halt during forward motion, you may need to take it apart and give the transmission some added TLC.
If the mower is operational, run it for a few minutes to warm up the transmission oil. On the underside of the lawn mower, disconnect the spark plug wire from the spark plug. Next, remove the fuel tank cap and place a plastic bag over the opening to keep dust from settling in and gas from leaking out as you work. Place the fuel tank cap back on over the plastic bag so gasoline doesn't leak out through the vents. Remove the mounting screws under the machine. You may want to secure the handle to a work bench with a vice grip to assist with securing the machine so it doesn't flip around while you manipulate the hardware. Take off the bottom mounting screws of the drive cover followed by the top driving screws. Pull off the drive cover after releasing the height adjuster lever, if necessary. Once you have access to the transmission, check for dirt or build up around the coils, filters and tank area. Check the oil levels and refer to the manual for the correct oil to fill the tank to the ideal level for operation.
Reasons Why the Lawn Mower Stopped
A faulty transmission may be just one reason why your lawn mower has decided to halt its forward motion. If the machine is still not working at its peak levels after you've serviced the transmission, it could be another component that was simply overlooked. Take a gander at the wheels as well as the front deck tray. Any other part that participates in the movement of the machine while it traipses over the lawn could be the culprit.