Things You'll Need
Old sheets

Flathead screwdriver

Mallet

Putty knife

Cardboard box

Sandpaper

Rags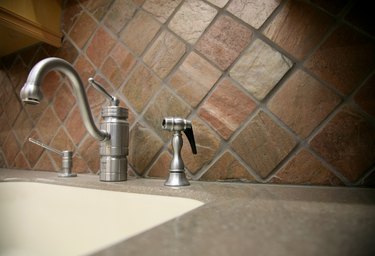 A tile backsplash adheres to drywall using an adhesive and grout. Once dried, these substances become hard and brittle, requiring the use of certain tools and procedures to remove them easily from the drywall. With proper care in the removal process, you can keep the old tiles to reuse later or sell, and limit the amount of damage to the drywall.
Step 1
Cover the kitchen counter, sink and faucet fixtures with old sheets. The sheets protect the surfaces from sections of grout that crumble from the backsplash as you remove the tile.
Step 2
Place the end of a flathead screwdriver on top of the grout between the tiles. Hammer the end of the screwdriver with a mallet, chipping the grout away from the tile. Continue hammering the grout from around all the tiles.
Step 3
Position a putty knife at the corner of a tile. Work the knife back and forth to edge it under the tile. Use the mallet to hammer the end of the putty knife to push it under the tile if you cannot force it under yourself. After pushing the putty knife half way under the tile, gently lift the handle, pulling the tile away from the wall. Place the tile into a cardboard box. Continue to the next tile and repeat the process.
Step 4
Sand any remaining glue stuck to the drywall with sandpaper. Wipe the area clean with old rags.
Tip
You may need to replace the drywall if damage occurs when removing the tile backsplash.
---
Constance Barker, located in the hills of southern Ohio, is the owner and writer of several financial, credit report and travel websites. She started writing in 1999 for private clients and began creating website content in 2004. She gained expertise in home improvement after she and her husband built their home themselves.