Things You'll Need
Sturdy wooden toy box or chest (purchased or constructed)

High-quality photocopies or inkjet prints of favorite photos

1 piece leather, cut to the dimensions of the toy box lid

2 - 1 x 4 in. pine planks, cut to dimension of interior box from front to back

1 piece 1/4 in. fiberboard, cut to interior dimensions of box with 1 in. notch in center of one of the long sides

Sabre saw

Wood glue

Rubber cement

White glue

Water

Wood burning tool

Leather working tools

Recordable greeting card or voice-over recorder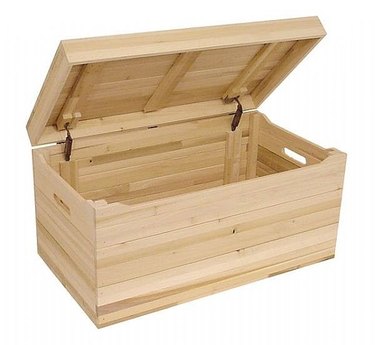 How do I make a toy box for my child that will be an heirloom, valued and handed down from generation to generation? We live in a disposable society and few of us have treasured possessions from our childhood to pass along. Here are a few ideas and instructions on making a toy chest that your child will love, that will become an heirloom, and that will start a new tradition in your family.
Step 1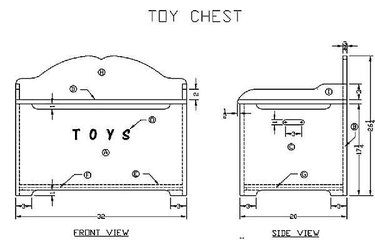 To make an heirloom toy box for your child, you will need to start with a sturdy, wooden toy box. Depending on your woodworking skills, time, and finances, you can either build the toy box (see plans and materials in References) or buy the toy box (some site addresses in References). Pre-made wooden toy boxes range in price from $60 - $200+ with the average quality box at about $125.
Step 2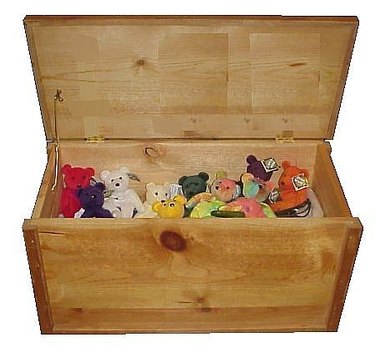 What characteristics will make your toy box heirloom quality?
It must be sturdy to hold up over the years, and through many moves.
It must be memorable and meaningful for your child.
*It must be a useful, classic piece of furniture that will stand the test of time.
Step 3
Before beginning to add mementos to the inside of the box, use wood glue to attach the two 1 x 4's along the interior side corners of the toy box. Once the 1 x 4's have dried, set the fiberboard panel on top of the 1 x 4 supports with the notch towards the back of the toy chest. Now you have a secret compartment for your child's delight! You can lift the false bottom using the notch in the fiberboard.
Step 4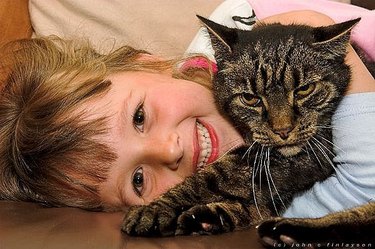 When deciding how to turn a generic toy box into an heirloom, think about things that you remember and miss about your childhood. What were your favorite toys - an Easy Bake Oven, a tricycle, a science lab? Who were the most important people in your life - your parents, grandparents, siblings, friends, schoolteachers? What events do you remember with the most warmth - bedtime reading, a birthday, holidays? What did you collect - rocks, dolls, soldiers, insects? Who were your most beloved pets - a stray dog, a turtle? Those are the kinds of things in your own child's life that will be treasured and shared with future generations.
Step 5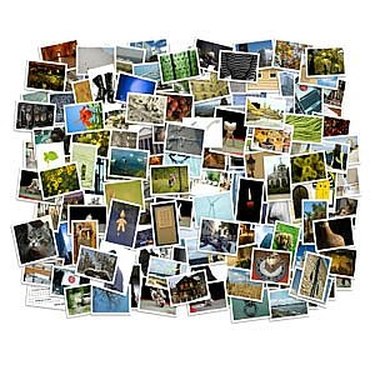 How do you incorporate these types of items into your child's heirloom toy box? Mostly through photographs. Be aware of toys, people, pets, and events that are important to your child as he or she grows up. You'll need to be discriminating in your choice of photos because you'll have limited space to incorporate these photos throughout the years of childhood. Gather photographs, scan them and print them or make high-quality copies. Cut out figures as you like, and using decoupage materials (dilute white glue that dries clear with a little water), create a collage inside the toy box lid, and expand to the sides as time passes.
Step 6
Using rubber cement, attach a piece of leather trimmed to fit the top of the toy chest. It's even fun to work with your child to tool the leather (before it's installed). Perhaps you'd like to stamp in his or her name, or decorate it with favorite animals - horses or dogs.
Step 7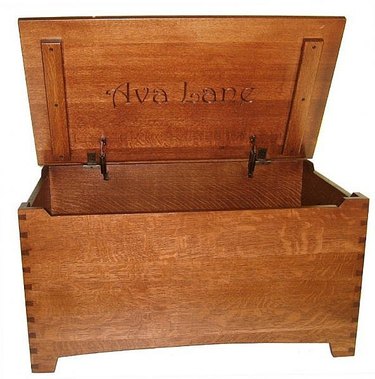 In addition to photograph copies, you may want to copy a page from your child's favorite book to add to the collage. Perhaps a fifth grade A+ paper, or a drawing that your child is particularly proud of having created. You may want to use a wood burning tool to burn your child's name or initials inside the toy box. How about decoupaging a swatch of your child's favorite baby blanket somewhere inside the toy chest? Be creative!
Step 8
Add sound to the toy box. Attach a voice-over recorder ($9.95 from Amazon) to the inside of the heirloom box. Your child will want to use this over and over, so I suggest buying an extra one or two to record your own voices as parents, or your child's laugh. These can be given to your child when they are older so they can remember those treasured times. NOTE: I haven't tried using a recorder from a recordable greeting card, but you might want to experiment with removing one of those instead.
Step 9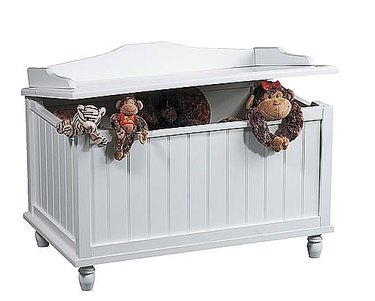 Although it may not mean much at the time, you may want to attach a handle from one of your kitchen cabinets (they need to be replaced anyway!) inside the box. These are the sorts of things we remember from our childhood that make a piece worth handing down.
Tip
To find websites that advertise wooden toy boxes, search images - "wooden toy boxes" - instead of the Web. It brings up many more results that you can view. Whether buying or building your toy chest, look for slow-closing hinges to avoid smashed fingers.
Warning
Don't overdo - be tasteful in your choices of embellishing or the toy box will end up looking overdone Don't use a clasp on the toy box - this will ensure that a child doesn't get locked inside Always use wood burning tools, power tools, and sharp objects with caution