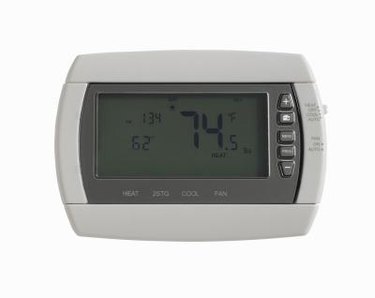 Your home thermostat controls the level of heating or cooling necessary to maintain the correct temperature in your home. Many thermostats are programmed to display temperatures in either degrees Celsius (C) or degrees Fahrenheit (F), based on the general preference of the country in which they are sold. You can, however, easily switch your thermostat between Celsius and Fahrenheit should you decide to display your house temperatures in a different way. Exact instructions will vary, depending on your thermostat model and manufacturer.
Step 1
Look for a "C/F" button on the front of your thermostat. Press the button to toggle between temperatures in degrees Celsius or degrees Fahrenheit. Once it's changed, the setting will be saved until the "C/F" button is pressed again. The button may be part of the display if you have a touch-screen thermostat.
Step 2
Enter your thermostat's setup mode. Scroll through the settings until you find a Fahrenheit or Celsius mode option. Toggle the temperature setting according to your thermostat's controls to change the way temperature is displayed. The exact location of this setting in setup mode will vary, depending on the make and model of your thermostat.
Step 3
Enter the "Installer Config" menu on your thermostat. Scroll through the configuration options until you see "F" or "C" displayed on the screen. Use the right or left arrow keys to change "C" to "F." Exit the menu to save your new settings. Your temperature will now be displayed in degrees Fahrenheit.