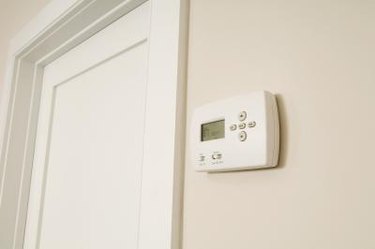 Johnson Controls Inc. makes a range of domestic thermostats for controlling air conditioning and home heating systems. The thermostats come with a "lockout" feature to prevent accidental and deliberate changes to the established climate settings. Johnson Controls thermostats feature five "lockout levels," ranging from complete access to total control restriction. You might want to unlock your Johnson Controls thermostat before making changes to your climate control set up. Allow roughly five minutes for this task.
Step 1
Press and hold the "C/F" button on the front of the thermostat until the configuration menu appears—roughly 8 seconds.
Step 2
Tap "C/F" until "Lockout" appears on the screen.
Step 3
Press the "Up" or "Down" buttons until "Lockout Level 0" appears on the screen.
Step 4
Wait roughly 8 seconds without pressing any buttons. The thermostat is now unlocked and will return to its default "Status Display" screen.