Things You'll Need
Digital thermometer

1 inch thick foam insulation

Volt Meter

Rubbing alcohol

Cotton swabs

Screw driver
Tip
The spa skirt is the space that contains insulation between the outer frame of the spa and the spa itself. The temperature inside the spa skirt is high when the display reads SP-OT. The overall water temperature is over 112 degrees when SP-OH is on the display.
Warning
Always take care when working with electrical devices near water to avoid injury from electrical shock.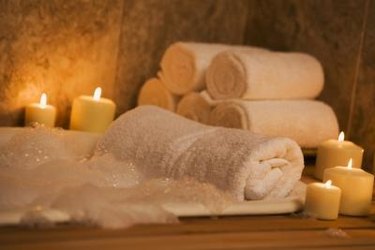 Gecko spa pack controls are control panels found on spas. The keypads of the Gecko Spa Pack are simple interfaces used to control the day-to-day operations of a spa. Sometimes the spa pack controls will display error codes or flashing lights. When this happens, the owner needs to do a bit of troubleshooting to fix the problem.
Step 1
Loosen the two screws that hold the cover onto the control pack. Lift the cover off to reveal the LED board. Check the LED board to see if there are three flashing dots on it. Turn the circuit breaker off if so, then back on to reset the system. Check whether the dots have disappeared. Check for anything blocking the pipes to prevent water from flowing through them if the flashing dots remain.
Step 2
Check the "hi-limit" probe installed on the heater barrel. Remove the probe from the heater and then put it back in its original position. Verify that the temperature probe is submerged in the water and properly connected. Place a one-inch thick piece of foam around it if it does not reach the waterline of the spa to prevent cold air from reaching it. You may need to replace the pack if the display continues to show the wrong water temperature.
Step 3
Measure the voltage of the first wire line and the grounding nut of the terminal block. Measure the voltage of the second line and the grounding nut. A reading of 230 volts means it is getting enough power. Check to see if all the wires are connected to the keypad. Remove the transformer, which is a small silver rectangle with blue, yellow, white, black and red wires coming out that leads to a plastic orange connector. Clean the orange connector's pins with rubbing alcohol and a cotton swab. Replace the transformer.
Step 4
Look at the electronic display of the control pack to check for error codes. If it reads SP-HR, there has been a hardware error. SP-BR means that the circuit breaker setting is too low and the spa is not getting enough power to run properly. SP-IN means that the input voltage is low. Check the circuit breaker and wiring to see if any fuses have blown. Reset fuse 1 or fuse 2 on the circuit breaker when SP-F1, F1 or F3 appear on the display.