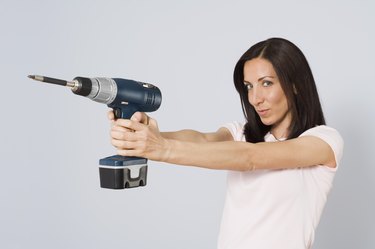 DeWalt has a selection of woodworking tools and power tools that contain a rechargeable nickel-cadmium battery pack so you don't have to deal with electrical extension cords and trying to locate a electrical outlet. DeWalt battery packs are quick to charge and long-lasting, and contain a microchip that shuts the battery pack off if it overheats. Once the battery pack shuts off, you have to reset it. The reset process clears the microchip's memory and gives the chip the "all clear" to charge normally.
Step 1
Press the battery pack removal button, located on the back of the power tool's handle, to release the battery pack from the DeWalt power tool.
Step 2
Slide the battery pack along the rail track, on the bottom of the power tool, to remove the pack.
Step 3
Place the battery pack into the battery pack charger with the metal contact side matching the metal contacts in the charger.
Step 4
Let the battery pack charge for eight hours. Your DeWalt battery pack is now reset.