Things You'll Need
Power supply

Pencil eraser

Batteries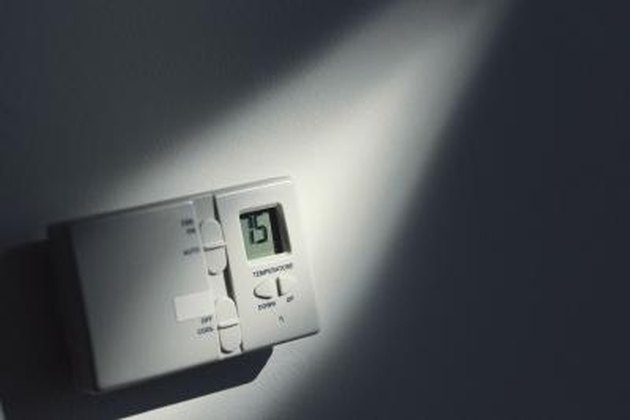 Luxpro manufactures a variety of thermostats for heating and cooling purposes and are available for purchase by licensed contractors or dealers. Luxpro thermostats include features such as 7 say programming, wireless sensors, two stage heating, heat pump programming, digital programmable and non-programmable versions, and heat or cool only options. While most thermostats are relatively simple to operate and fairly intuitive to program, problems may occasionally arise. If this happens, individuals may find troubleshooting the issue to be useful in determining a potential solution.
Step 1
Ensure the thermostat has power if plugged into an electrical outlet but it is not functioning. Check the fuse or circuit breaker. Replace or reset as necessary.
Step 2
Replace the batteries in the Luxpro thermostat if the unit is heating or cooling above or below the set temperature or does not turn off as expected. Use the old batteries as a guide for purchasing the new batteries and place the flat end of each battery against the spring in the battery compartment before pushing the other end of the battery in firmly.
Step 3
Locate the contacts, which are two brass prongs located above the lettering on the wire terminals on the subbase, if the unit is not heating or cooling as expected. Gently squeeze the contacts towards each other. Use a pencil eraser to clean the single contact pens, which is located on the circuit board.
Step 4
Move the fan switch to "Auto" if the fan is running continuously. Ensure the temperature on the thermostat is set above the current temperature if heating is desired and below the current temperature if cooling is desired.
Step 5
Contact an authorized service professional if the above steps do not resolve the issue.
---
Meredith Jameson writes early childhood parenting and family health articles for various online publications. She holds a Bachelor of Arts in history from San Francisco State University.