Things You'll Need
Patio design books

Backyard living magazines

Measuring tools

Copy of city building codes

Building permit

Sketch pad

Graph paper
Tip
Design a patio cover with a framed-in wall to be covered with lattice on one side. Use this wall to install shelving for media equipment to be used on the patio in good weather. Run electricity to the covered area to make it possible to use small appliances in dry weather. Route electrical wiring through special conduit available at home improvement stores.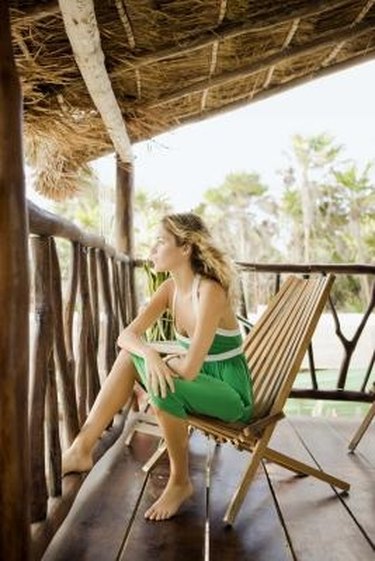 Every patio can become an extension of indoor living space, especially if it has a roof cover. Wooden structures can be put in place to be covered with standard roofing materials, such as metal or asphalt shingles. However, wood patio covers can also be covered with fabric, bamboo or cedar shakes. Use pressure-treated wood or cedar to create a wood patio cover that will last for years. Design a cover to harmonize well with the home's overall style to add visual appeal and market value to the home.
Step 1
Buy or borrow patio design books and backyard living magazines. Go over patio designs that will work for an existing home. Look at wooden patio covers with framing to form a pergola with no enclosed roof, for example. Use this type of cover for shading only. Consider installing a weather tight roof if the cover will create an outdoor dining and cooking space. Make a design selection based on how the family will actually use the covered patio space.
Step 2
Measure the patio space to be covered. Carve out room in the yard space to build a patio roof that is at least 9 feet by 12 feet in size. Check with local authorities to see how far back from a neighbor's property line a patio roof must be built. Inquire about the need for a building permit as well.
Step 3
Sketch the house and patio design. Draw the roof line of the patio cover as an A-frame, hip roof or barn shape, for example. Make sure the roof complements the roof and roof overhang areas of the house. Create drawings of the patio cover framework that will place roof rafters on 16-inch centers. Plan to use support posts for the roof area made of post material that is at least 8 inches square.
Step 4
Plan how to secure the patio roofing to the house, if this is needed. Build a stand-alone cover if removing part of the home's roof for tying in the patio roof will be complicated. Plan to attach the patio roof to the home's roof if there is a possibility the covered space will become a sun room or screen room in the future. Attach the cover to the house if the location is extremely windy, since a free-standing unit may be more vulnerable to shifting.
Step 5
Check the foundation for the covered space. Make sure it is at least 8 inches deep with poured concrete reinforced with metal grid work. Never build a heavy cover over concrete that is not reinforced with metal, since cracking can occur with too much weight placed on the foundation. Decide if the patio foundation will hold a fireplace for the patio. Plan to build a patio fireplace on the side of the patio farthest from the house for safety reasons, and use a metal roof covering to protect from sparks.
---
Judi Light Hopson is a national stress management expert and psychology issues writer. Her column on relationships, co-written with a nurse and a psychologist, is distributed by McClatchy Newspapers to over 300 major publications worldwide. Ms. Hopson has written for employee assistance programs that serve over 15% of America's Fortune 500 companies. links provided below.