Underground shelter can protect groups of people from catastrophic war events as well as weather events like tornadoes, heat waves and hurricanes. The difficulty of constructing underground shelter will depend mostly on the type of bedrock and soil where you want to build. Solid earth material is hard to dig but the need for reinforced walls lessens. Soils that are less-compact, or ones with high-water content, require reinforced walls to prevent the shelter's collapsing. Underground shelter is meant to be a temporary arrangement, not a place to live.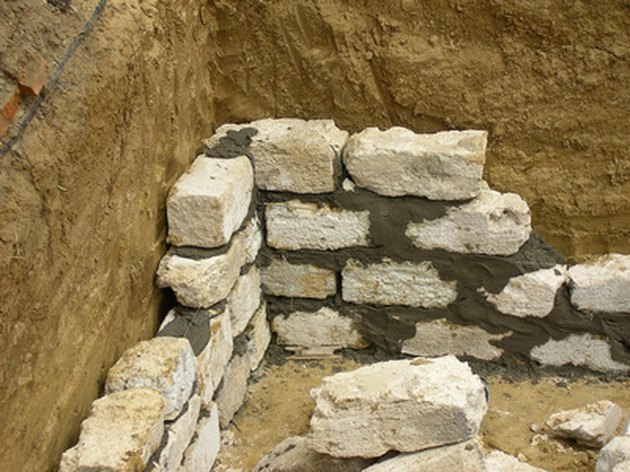 Step 1
Dig out dirt to form the pit that will be your shelter, using a backhoe, shovel or other digging devices.
Step 2
Pour concrete on the base of the pit to create a floor. Stack concrete blocks vertically from the floor up to reinforce the walls. According to the "How to Build a Blast Shelter" by the United American Freedom Foundation, solid concrete blocks' standard size is 4-by-8-by-16 inches.
Step 3
Measure out wood pieces with measuring tape to the desired size for steps. Cut wood with a saw and nail together those pieces to construct a staircase that will make walking into the shelter easy.
Step 4
Pour concrete on the surface and allow bolts to stick up on opposing sides. Place hinged door halves' holes over the bolts. Place nuts over each bolt and tighten.
Step 5
Weld a locking apparatus to the underside of the hinged metal doors to be able to close and latch them together. Use a professional welder so you don't have to do this part, or wear safety goggles and other gear to protect yourself, if you attempt the task yourself.