Things You'll Need
Masking tape

Drill driver

Philips bit

One Phillips head Sheetrock screw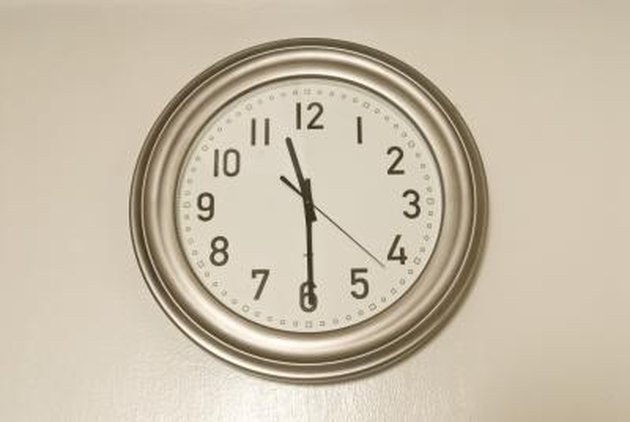 With the possible exception of the television set, no home appliance is looked at more often than a clock. Old-style analog wall clocks that needed to be installed adjacent to an electrical outlet have become a thing of the past. Most modern wall clocks use one or two AA batteries for their power source, which means they can be installed virtually anywhere. Installing a clock of this type will only take a couple of minutes.
Step 1
Install the battery or batteries into the back of the clock, and set the clock to the correct time.
Step 2
Locate a suitable wall space to hang your clock.
Step 3
Tear two small pieces of masking tape from the roll and stick them on the wall in a cross or "X" to prevent the wall board or Sheetrock from cracking.
Step 4
Drive the Sheetrock screw into the wall in the center of the spot where the two pieces of masking tape intersect. Leave about 1/2 inch of the screw exposed.
Step 5
Position the small circular access on the rear of the clock over the exposed portion of the screw head and gently lower the clock into its final position.
---
Rich Finzer earned his boating license in 1960 and started his writing career in 1969. His writing has appeared in "Northern Breezes," "Southwinds," "Living Aboard," "Good Old Boat," "Latitudes & Attitudes," "Small Craft Advisor," "Life in the Finger Lakes," "BackHome" and "Dollar Stretcher" magazines. His maple syrup has won awards in competition. Rich has a Bachelor of Science in communications from Ithaca College.