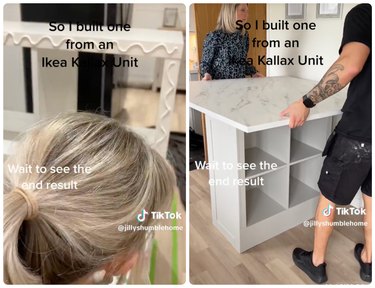 One of the most popular and versatile IKEA pieces for hacking is the Kallax shelf unit, which costs just $59.99 for the four-shelf option. With its simple design and clean lines, the Kallax can be transformed in many inventive ways. For instance, TikTok user Jilly's Humble Home has shared their IKEA Kallax hack for turning the shelving unit into their dream kitchen island.
Note: Since it is flush with the wall, this piece is actually called a "kitchen peninsula," but the TikTok user kept the name "kitchen island" because more people are familiar with what that is.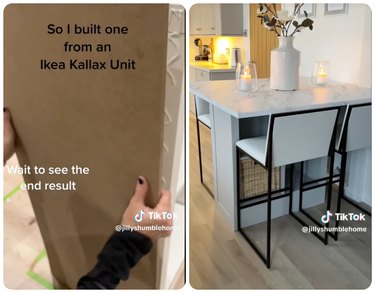 In the tutorial video, Jilly's Humble Home starts by assembling the shelves as normal and then applies legs to the bottom of the unit and glues pieces of plywood to two sides of the shelves (keeping one side open for storage while the other goes against the wall). They also add smaller strips of plywood to the piece to make trim for the island before topping it with one more piece of board that is then covered with a marble-print laminate to give the effect of a much more expensive piece.
The end result? A beautiful new addition to their kitchen for just the cost of the shelves and a few extra supplies.
Other IKEA Kallax Hacks to Try