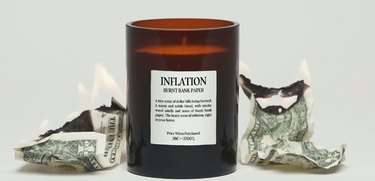 If you have a soft spot for social experiments and cheeky home decor, you're going to be amused (or annoyed) by the newest "Inflation Candle" by Conspiracy.Art. Not only does the product smell like burning money, but it also increases in price every day.
Needless to say, there's a lot to unpack here. Let's start with the scent, which is inspired by inflation and the increasing cost of goods.
The fragrance was developed by Parisian perfumers, according The Good Life. Per the Inflation Candle website: "It smells like burnt bank paper. Like a pile of cash thrown into a fire in the woods. Like a bank on the verge of bankruptcy." The fragrance is smoky, woody, warm, and cozy, which actually sounds quite pleasant.
It seems like those who have already purchased the candle love the fragrance.
"Terrific scent. Will definitely order a new one in three months," said one reviewer. "Thanks to Inflation Candle, I don't have to burn my dollar bills anymore to enjoy this scent at home," commented another person. (We're going to assume this individual is joking.)
Additionally, the candle itself is made of 100% natural vegan wax and a premium cotton wick. Its burn time is listed at 50 hours.
As for the increasing price? You have to admit that it's pretty sassy, considering the theme. It was initially released on April 19, and since then, the candle's price has gone up by $1 each day.
Per The Good Life, the creators produced the candle as a "commercial, social, and artistic experiment" to address just how much one can burn money in the form of a candle.
At the time of writing, the candle costs $26 — so it's not exactly cheap, but it's not super expensive either. That said, if you're curious about the product, you'll want to scoop it up soon to save yourself a few bucks. Each candle comes with a custom label that lists its price on the day it was purchased.