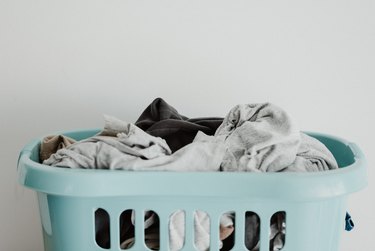 If you frequently read Hunker, you're likely just as obsessed with cleaning as we are. So much so that things like laundry tips and items probably make your heart skip a beat, too. So, when we came across a fancy tricked-out laundry hamper, we just had to share it.
The item was recently featured in a video by TikTok user @frizzandfrillzz. It's a chic, rectangular piece made with a black frame and divided washable liner bag. There also built-in customizable labels, allowing you to label each section depending on your needs. For example, the content creator labeled their sections "whites," "colors", and "delicates" for things that don't go in the dryer.
The clothes hamper also has heavy duty rolling wheels, a handle, ‌and‌ a lightweight wood lid, making it easy to keep everything neat and out of sight. Plus, the wheels are lockable, so you can stabilize the hamper if needed.
On TikTok, folks were intrigued by the item, and many were eager to buy it. But as some people noted, it might not be ideal for everyone's living situation or lifestyle. For example, if your laundry room is on another floor, you wouldn't be able to roll the hamper to the washing machine. The same goes if you use the laundromat.
You can, however, simply use the hamper as an aesthetically-pleasing option for storing laundry, then transfer the clothes into separate travel-friendly laundry bags. This is something some people already do, especially those that use laundromats.
With all that being said, if you're interested in the laundry hamper, you'll be glad to know that it's available in different sizes. On Amazon, you can purchase the hamper with two dividers — or, if you prefer a bigger option, one with three dividers.
If you already have solid laundry setup, the hamper can be used to store other items, such as toys. Love it!