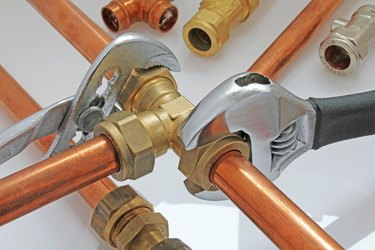 Though not the most exciting part of a bathroom remodel or kitchen refresh, at some point you may have to think about the type of plumbing pipes you want — especially if you have an older home that has galvanized plumbing. Copper pipes are a common option for water supply purposes thanks to their beneficial qualities, such as longevity, but those benefits come at a cost. With the climbing value of copper, the cost of copper pipes keeps increasing as well. Compared to cross-linked polyethylene, better known as PEX, copper is far more expensive, but it could be worth the investment for smaller projects in the long run.
Ready for a rundown on copper pipes? Here are all of the pros and cons.
Copper plumbing has long been a standard for water supply lines for many reasons. Generally speaking, copper isn't likely to corrode, while older galvanized pipes generally do once their protective zinc coating wears off inside and outside the pipe. Copper has natural anti-bacterial properties, which help prevent bacterial growth inside the pipes. With PEX pipes, bacterial growth could occur if there's bacteria in the water. In most cases, this isn't an issue with municipal water supplies, but harmful bacteria could be of concern if your home's water source, such as a well, becomes contaminated.
Copper also stands up better to heat than any nonmetal pipe or tubing. This is why it's often used in high-heat situations, such as the key piece running directly from your home's hot water heater. It's also immune to ultraviolet (UV) rays, so it can be used in exposed locations outdoors, while PEX and CPVC cannot since UV rays degrade these materials. If exposed to flames, copper won't emit harmful fumes, but PEX, PVC, or virtually any plastic will.
Under typical household conditions, copper has an excellent life span of 50 to 75 years. By comparison, PEX is expected to last 30 to 50 years. Beyond that is uncertain since it's a relatively new material. Copper is also easy to recycle, which means any scrap pipe pieces left over after installation have some resale value, at least to a metal scrap yard, while PEX can't be recycled.
Cost is one of the biggest drawbacks of installing copper pipes in your home. Since copper costs more than other common pipe options used for water supply, the added expense could be significant for a large project, such as new home construction. Expect to spend $2 to $4 per foot for the copper pipe alone, not counting installation. By comparison, PEX is about 50 cents to $2 per foot on average, while chlorinated PVC, or CPVC, averages 50 cents to $1 per foot.
If you are hiring a professional plumber to install copper pipes, it could cost more for the labor too. Copper takes longer to cut, prep, and install than a material such as PEX, which means more labor hours on the project. It's rigid, so rather than bending it, you'll need elbows when angles are necessary, which also means more connections to sweat and potentially more points that could fail if the job isn't done properly. This may also mean extra access cutouts in the walls to install copper pipe compared to the more flexible PEX, which can be bent and snaked through wall and ceiling spaces. Copper also requires soldering for every joint in most cases, while PEX does not.
Although copper resists corrosion, it's not immune to it. If the water has a low pH, meaning it's a bit acidic, the acid could cause corrosion over time, leading to pinhole leaks. In climates with freezing weather, copper pipes are more prone to bursting if they freeze, while PEX can expand to accommodate some frozen water and increased pressure due to freezing. Copper pipes also don't insulate water as well as PEX, which means they don't keep hot water quite as hot on its way from the hot water heater through your home's hot water pipes.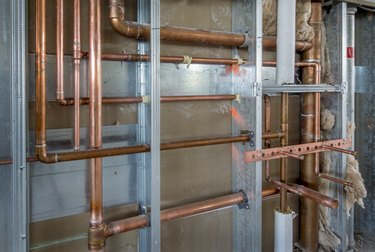 Pipe Installation Differences
Installing copper pipes and fittings usually requires "sweating" or soldering, at least some of the connections. While it's not difficult to learn how to properly cut, prep, and sweat the pipes, getting it right in all situations takes experience. For every pipe you cut, as with many other pipes, you'll also have to remove burrs and gently sand and clean the pipe to prepare it for sweating. Soldering with a torch also requires protecting the area around it from flames and from heat using some form of heat shield, while connecting PEX pipes uses no heat or solder at all.
Cutting PEX requires a different cutter that has a scissor-style blade. Instead of solder or an adhesive, PEX connections are made with barbed fittings secured with crimp rings or cinch clamps, tightened with a special clamping tool. To connect to existing lines, you'll need a push-to-connect tee, such as a SharkBite, or you'll need to use a standard copper tee, which requires soldering, along with a special PEX adapter fitting. Some regions don't allow push-to-connect fittings in areas that aren't easy to access for repairs, so check local regulations first.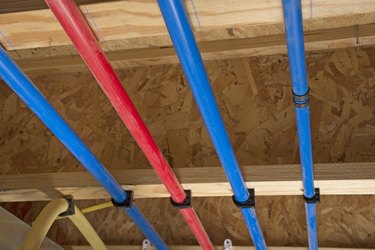 Alternatives to Copper Pipes
PEX is on the rise as an alternative to copper pipes for water supply lines, largely because it's easy to use and about a third of the cost. In cold conditions, the water in a PEX pipe could freeze, but PEX flexes enough to expand a little, which is both a benefit and a drawback. On the plus side, it may not burst, but on the downside, it might leak at a connection point during the times it expands or contracts. It also moves when someone turns the water on or off, which means it should be secured to a stud or other framing to help prevent leaks.
Check your local plumbing code to ensure you use an approved pipe material, as each area has its own regulations. California banned and then unbanned the use of PEX over concerns of toxins potentially getting into drinking water, while New York City previously banned PEX because rodents chew through it, resulting in loads of water damage. Be sure to follow all local code requirements carefully, as even the types of fittings used are subject to local regulations.
As far as costs are concerned, it's not a bad idea to price both PEX and copper pipes and their associated fittings based on the project at hand. If you are hiring a pro for the job, ask the pro to itemize the estimate for both options. For small projects, copper might be reasonable if you are using all standard fittings as well because specialty fittings, such as SharkBite, cost up to 10 times as much as their old-school counterparts.