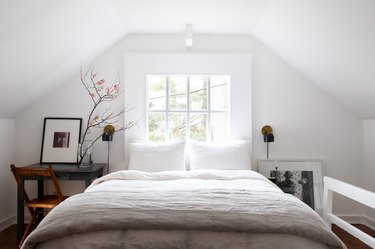 Having a small space doesn't mean you have to sacrifice your favorite farmhouse bedroom decor ideas. In fact, petite sleeping quarters, or even a guest room, can still have all of the same country-style flair as a larger space. We'd go so far as to say a small bedroom even enhances every cozy farmhouse design idea because tinier areas can be automatically comforting and warm.
If you're looking for ways to maximize the square footage as part of your small country bedroom makeover, we have a few ideas to get you started. The key here is incorporating multifunctional bedroom furniture, light fixtures that double as home decor, and a simple color scheme to get the rustic farmhouse effect.
1. Find lighting that doubles as art.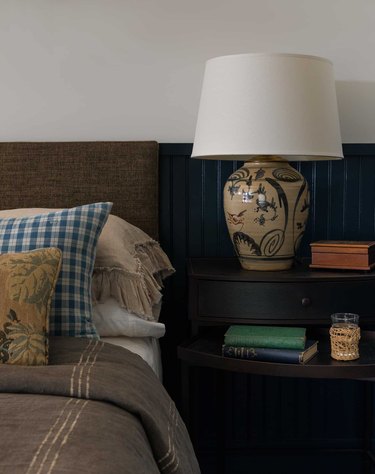 It's all about being multifunctional when it comes to small farmhouse room ideas. Pick pieces that really pack a punch. This beautiful farmhouse lamp does more than just light the space. It also adds some flair and doubles as an art piece. You won't need to clutter up your small side table with any other trinkets if you're using a decorative fixture like this.
2. Prioritize neutral colors to make your modern farmhouse bedroom feel open.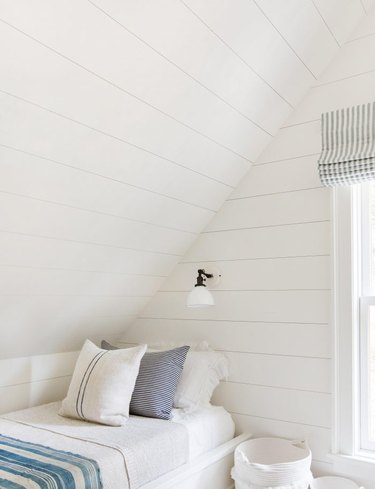 Your small farmhouse bedroom will look beautiful when outfitted in light, neutral paint colors and textiles that keep the space open and airy. Plus, you can't go wrong with white walls covered in shiplap. They combine rustic and minimalist touches in the best way.
3. Keep furniture small but impactful.
A rustic farmhouse bedroom design calls for some stunning wood furniture pieces. Whether you're opting for modern farmhouse style or a more traditional iteration, you'll probably want barn wood that looks like you just brought it in from outside. This end table resembles a fresh log, but it's still petite enough to work in a guest bedroom.
4. Use room decor that can be tucked away to save space.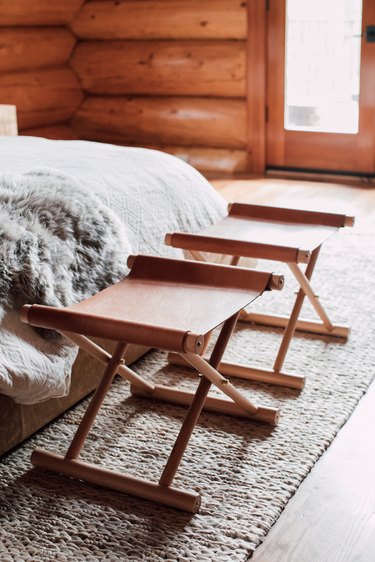 What we love about this particular farmhouse look is that the wooden and leather stools can easily be folded up and tucked away to save floor real estate. This is a great space-saving hack when you have a small bedroom. Consider pieces like this or foldaway tables. Then slide them right under an iron bed frame when necessary. Want another country living bedroom piece? Go for a barn door! It'll add so much character without taking up extra space.
5. Install rustic hooks that work as wall decor.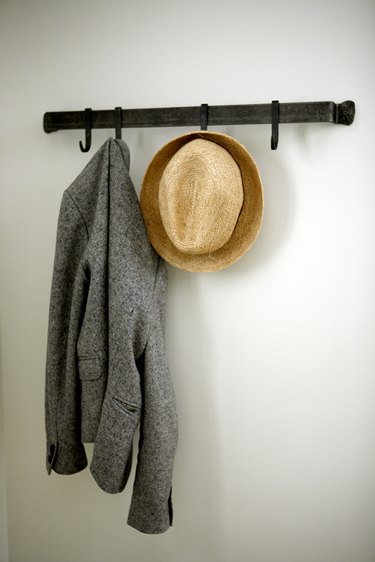 One unfortunate side effect of a small bedroom might be having a tiny closet. In fact, you may not have a designated clothing storage area at all. And if that's the case, it's time to get creative with wall art. Consider hanging rustic hooks or a wooden peg rail, so your coats or hats can look chic while also having proper storage. Plus, this farmhouse decorating idea will allow you to showcase pieces you love.
6. Use small pops of color for brightness.
Rustic style is typically fairly neutral, but pops of color are also right on-trend. In a small farmhouse guest bedroom, a lot of vibrancy can feel overwhelming. So instead, limit the color to accessories. In this particular space, the wall-mounted bandanas above the headboard brighten things up. And while they're tiny, they add just enough life into the space. You could also opt for a vibrant lamp or bedroom sconce.
7. Use pillows as decor for a farmhouse feel.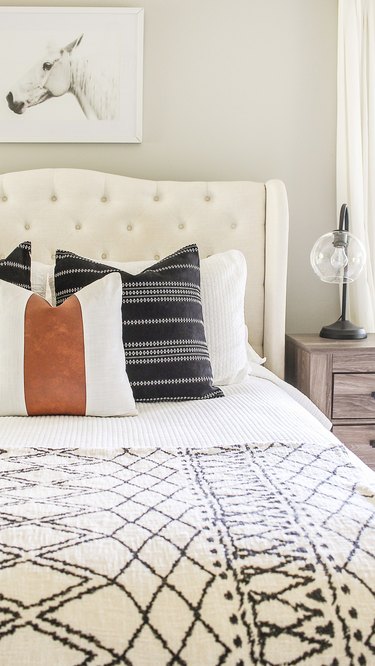 Being conscious of space means making sure your farmhouse bedroom items serve a dual function. As we mentioned, the right lighting can have multiple purposes, and so can throw pillows. Let them be decorative ​and​ cozy. Chances are you have at least a couple of pillows on your bed, which means you can dress them up with rustic shams and cases.
8. Hang lights from the ceiling.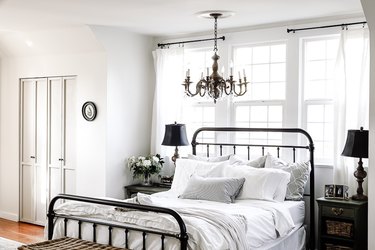 When space is at a premium, look up. You can still get your favorite farmhouse decor elements into a tiny bedroom, especially if you hang the light fixture from the ceiling. In this small farmhouse bedroom, the rustic chandelier creates a warm and inviting feel but takes up zero floor or wall space. It also perfectly complements the metal bed frame.