If you've ever moved, you understand the value of having a high-quality vacuum in your cleaning toolkit. (How could so much dust exist in such a relatively new space?)
This was a question I asked myself almost daily when I moved into my dream one-bedroom apartment with my boyfriend in October 2020, sans vacuum. (I'm 25, so I'm still working on my list of household musts.) Of course, we decided to adopt two adorable kittens a month later.
Not to be dramatic, but I was shocked at the type of messes I encountered with this new pad and kitties calling the shots. Litter spread everywhere like confetti, and when I left my apartment for a weekend, I came back to my couch completely covered in grey cat hair — and not just a cute amount, either.
After attempting to lint roll weeks' worth of hairballs, one thing was clear: I needed a vacuum that could handle my apartment along with my mess-making creatures. And the Miele Triflex HX1, a three-in-one cordless vacuum that essentially combines the powers of three different machines into one, was exactly what my once dust- and hair-covered space needed.
The first week, my boyfriend vacuumed our 600-square-foot apartment probably 20 times "just because" (cleaning can really be that satisfying when done right). As soon as we set up the docking station in the kitchen and started testing the three modes, there was really no looking back. Here's why it's earned a life-long spot in my cleaning arsenal.
Pets or not, dust and dirt collect under your couch or any surface that's left neglected for long-ish periods of time. Add my tiny cats that shed like lions, and we definitely had a messy situation down there. Using the vacuum in Reach Mode, you can move the PowerUnit closer to the handle, making it easier to get low to the ground and in those harder-to-reach spots (even under the fridge!).
And it totally worked. I was able to remove all the dust, hair, and random pieces of cardboard and paper my cats love to hoard and chew on. Now? I simply take it for a little weekly under-the-couch spin for upkeep (and some fun).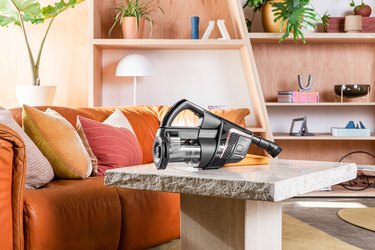 Never-ending shedding can feel impossible to clean. All of my furniture would've agreed with you, until I used my Miele in Compact Mode, which reconfigures it into a hand vacuum. That way, you can clean up random messes as well as upholstered or carpet surfaces super quickly.
I first took the vacuum to my couch cushions, and stood in absolutely awe as it sucked away ​all​ the hair to reveal the stark, clean fabric beneath. Now I can have a friend over without prefacing with "sorry, I just got cats."
In addition to getting my couch in hairless shape again, any time my cats knock over one of my plants — which is a game they like to play too often — I'd usually have to sweep and wind up finding more mess throughout the day. It's a one-and-done clean-up now, which comes in clutch when I inevitably hear a large crash in the middle of my workday.
Having to lug around a Rapunzel-level power cord every time you want to clean is a hassle, and deterred me from vacuuming in past apartments. (Read: I'd avoid it at all costs.)
However, snapping the Triflex HXI into Comfort Mode (where the PowerUnit is at the bottom of the vacuum) makes it feel almost weightless, so I could clean my entire living room, kitchen, and bedroom without struggling or having to unplug and re-plug every time I switched rooms. Plus, it's so comfortable and easy to maneuver, I could literally vacuum my apartment for hours — if that was actually necessary, that is.