When it comes to optimizing close quarters for visitors, take time to make a plan for every square inch of floor space. Moreover, look for furniture that pulls double duty. For example, opt for bedside tables that have hidden storage space. And don't let the bed frame off the hook either. If possible get one with drawers for spare clothes or even home decor that needs a spot when it's not in use.
1. Mount sconces on the wall.
When you're lacking square footage, use the walls to your advantage. Install wall sconces so your guests can read in bed. And this option won't take up any of the much-needed space on the floor or nightstands (because let's face it — table lamps are bulky). Go for something timeless and simple like the modern black fixtures in Suzannah of Create Enjoy's home.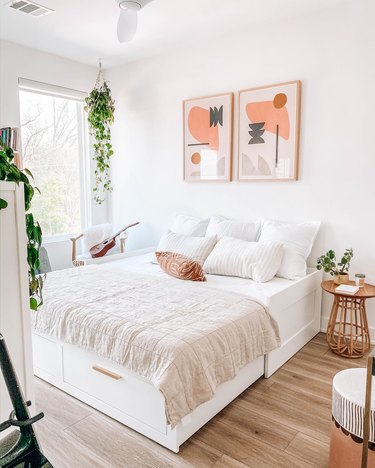 3. Get creative with paint.
4. Make it multifunctional.
One of the key things to consider when it comes to furnishing a small guest bedroom is how to create multifunctional areas. This minimalist boho bedroom designed by Kate Lester features a small desk that acts as a nightstand ​and​ a place to work or do makeup. The finish blends seamlessly into the white walls, letting the wooden headboard do the talking.
Shelving is ideal in small quarters as it makes use of wall space and allows you to display greenery and artwork. We love how the DIY wooden shelf in Caileigh Langford's guest bedroom spans the entirety of one wall, allowing her to change things up frequently. You could even style the planks to suit the personality of different guests.
6. Reflect light with large mirrors.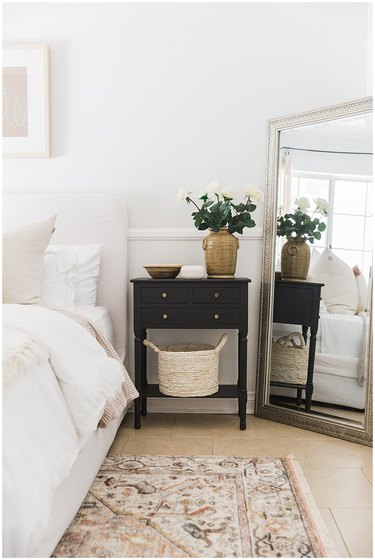 Mirrors can help create the illusion of more space in a small room. They bounce around natural light and add depth to a design scheme. Plus, they're functional if your guests want to check themselves out in the mornings. Lean a freestanding mirror in a corner of the bedroom, just as Shannan Leigh did here.
7. Hang your curtains high.
A common mistake homeowners make when it comes to small rooms (yes, that includes living rooms, too) involves the window treatments. Hanging curtains much higher than the window, as demonstrated in Nadine Stay's compact guest bedroom, will add height to the room, in turn making it feel larger. IKEA offers affordable drapes to help you get the effect. We also love the throw pillows and blanket at the end of the bed to add pops of color.
8. Don't be afraid to make a statement.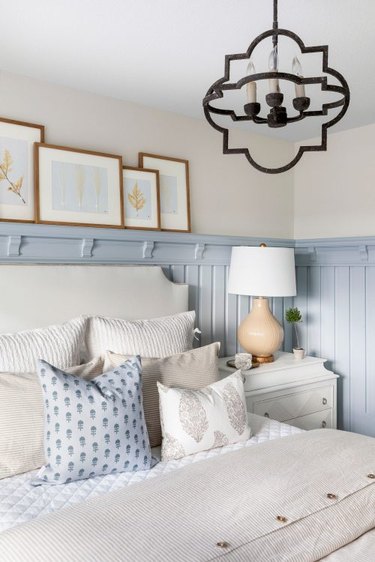 Just because your guest room is small doesn't mean you can't incorporate unique architectural elements and decorating ideas. Take this design scheme by Bria Hammel; the wall paneling and accompanying picture ledge make the place feel cozy. Plus, they add extra space for leaning artwork.