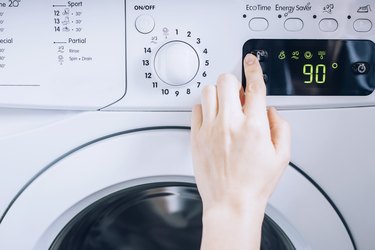 Instagram is our source for many things. It's where we ​ooh​ and ​aah​ over pretty photos, learn about the latest trends, and discover some of our favorite hacks. Specifically, Instagram has been our one-stop shop for laundry hacks that are meant to make our lives easier (and to make doing laundry less of a drag). We'll be sharing our favorites with you below.
1. Add Essential Oil to Reusable Dryer Balls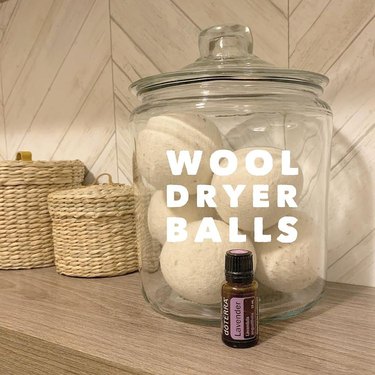 Instead of using dryer sheets that go in the trash, @theessentialoilwitch recommends using reusable wool dryer balls. "I get mine on Amazon and they are extremely inexpensive," she writes. "Add 2-3 drops of your favorite oil and BAM! Chemical-free, static-free, good smellin' laundry! (I put 2-3 balls in with each load depending on size)." Interested in making your own dryer balls? Try our easy DIY.
2. White Vinegar + Baking Soda = Whiter Whites
When bleach wasn't helping user @alexshaver_ whiten her boys' clothes, she turned to a non-toxic method: white vinegar and baking soda. "The way to use it is by pouring 1/3 of a cup [of vinegar] in the spot where the softener would go," she explains. "If you want a boost of cleaning with it, you can sprinkle baking soda too."
3. Lemon Oil for Sticker Residue
If you leave a name tag or sticker on a shirt that's been washed and dried, a frustrating residue gets left behind. Fortunately, @justbreatheamy shows us how to get out of this mess. All you have to do is pour lemon oil all over the residue and let it sit for 10 minutes. Then, it should flake right off.
4. Prevent Detergent Drippings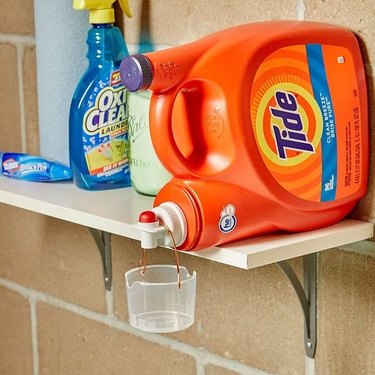 No one likes to see a puddle of detergent on the floor. That's why @familyhandyman came up with a hack for catching detergent drippings. Using six inches of copper wire, poke the wire through the sides of the detergent cup to create a makeshift handle. Hang the cup on the detergent bottle spout and voilà! No more detergent puddles.
5. Spend Less Time at the Laundromat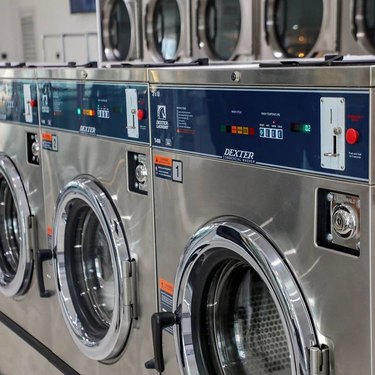 If you use a local laundromat to wash and dry your clothes, @washryte.laundry has a great tip to make your trip go smoothly: pre-treat stains before you go. While you're at it, pre-sort your laundry. After that, all you have to do is throw your clothes in the washer and you can cut down on time spent outside your home.
6. Get Rid of Excess Pet Hair
According to @armandhammerlaundry, before washing clothes covered in pet hair, you can pop the items in the dryer to remove some of the hair. By doing this, you're preventing hair from clinging to your clothes during the washing cycle.
7. Never Lose Masks or Socks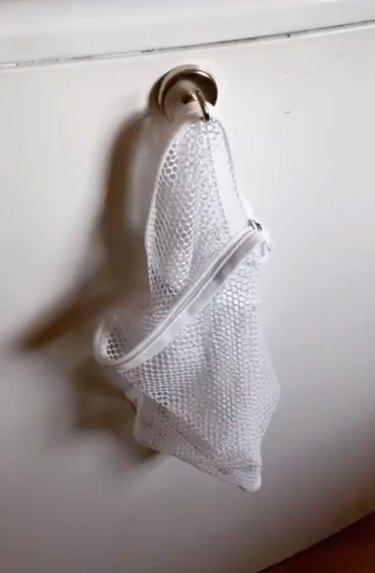 For those moments when socks and masks disappear before you even get a chance to wash them, @unforegettableentertaining has a clever solution. By placing a magnetic hook on your washer, you can hang a small mesh bag on it for all your smaller items. Then, when you're ready to wash them, just throw the bag in the machine. This can also prevent you from losing these items during the laundry cycle.
8. Cut Down on Drying Time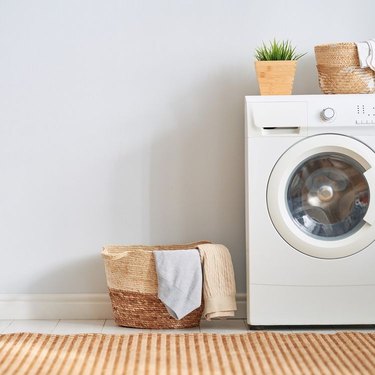 All you need to cut down on drying time is an extra towel. On Instagram, @majestic_clean_mn says that you can dry clothes faster by adding a clean, dry towel to the load. The towel will help absorb moisture. However, according to Lifehacker, you should only leave the towel in for 15 minutes — otherwise it could become soaked and start to contribute to the moisture.
9. Prevent Detergent Waste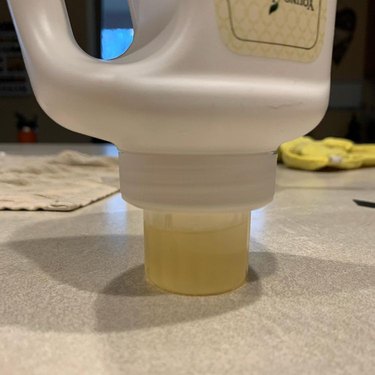 Instagram user @thievin_oils shares a trick for making sure you use every last drop of your detergent. "I always let my laundry soap bottle sit upside down for 24 hours," she writes. "Look at all that soap! A good 4-5 loads left in the bottle! I also cut the bottle in half and scrape the inside with a spatula. No waste here!"