We've said it before: Books make for beautiful decor. With some strategic styling, they can add vibrant color, texture, and visual interest to your place. But you don't need a complete home library for your collection to look stylish. A well-placed tome or two can round out a vignette on your coffee table, while a small stack on the nightstand will make your bedroom look lived in. Whether your style leans minimal Scandanavian or boho maximalist, read on for eight book storage ideas that will leave you feeling inspired.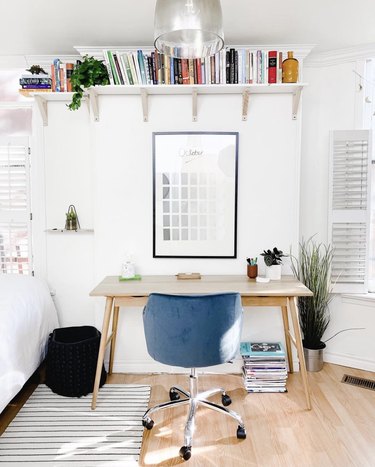 When YouTuber Alexandra Gater made over this studio apartment, she knew square footage was in short supply. That's why she maximized the space by hanging a shelf near the ceiling, leaving just enough room for plants, book storage, and other decorative items.
2. Leave a little breathing room.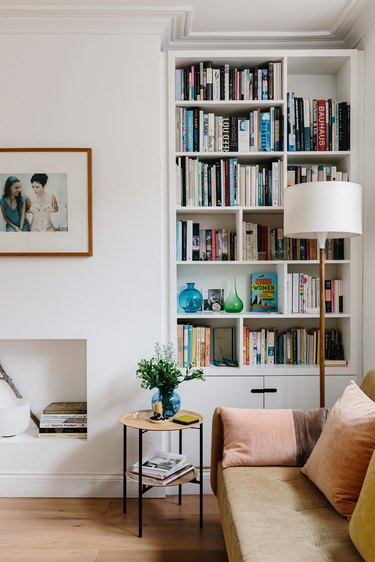 This built-in bookshelf is packed with a large collection. And we love how one shelf skips books in favor of vases and other decorative objects. The white space provides balance for the rest of this vignette.
3. Don't make all your books live on bookshelves.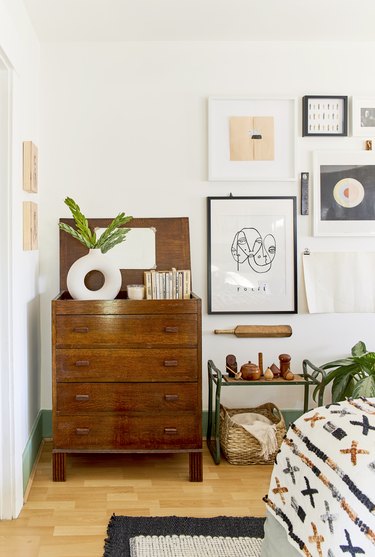 In this midcentury bedroom, a small stack of cream-colored books sits on top of a dresser. Paired with a vase from H&M Home, the look feels less like a conventional book storage solution and more like a design-forward moment. The tomes here are monochromatic in color, but a brightly colored set would pop nicely, too.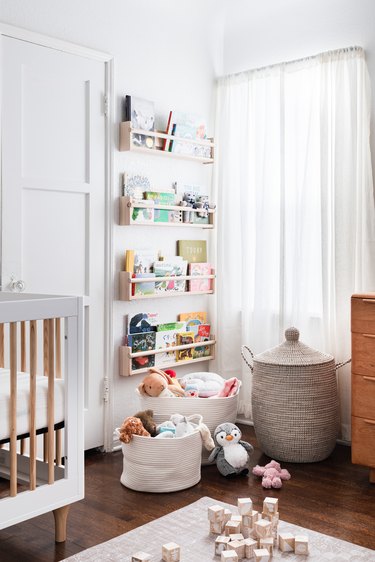 In this nursery, wall-mounted shelves allow the fronts of these children's books to shine. The cover-out orientation makes it easier for kids to browse for their favorite stories, plus the books double as wall art!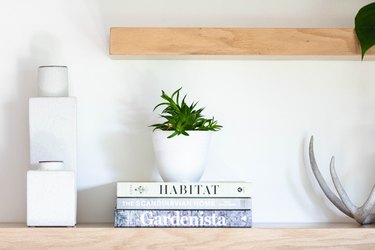 Do you live by a less-is-more home decor philosophy? Perhaps you prefer to buy e-books? In that case, a small stack of coffee table reads will provide the perfect perch for a small planter on a floating shelf. By using books to lift the plant a little higher, the objects on the ledge will form a diagonal line, which is a trick designers use to make shelfies look great.
6. Spread those books out.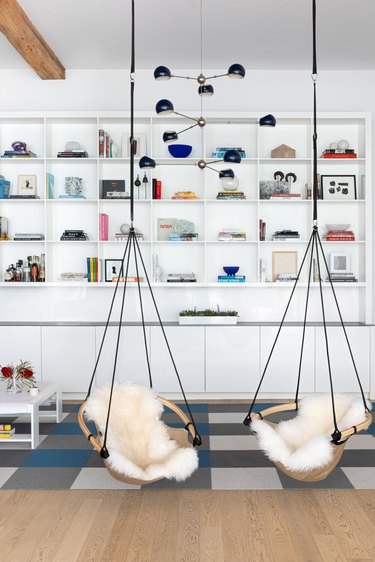 In this ultra-modern chill spot designed by Chango & Co., the shelves provide ample space but are styled with a minimal number of objects. The books and other decor could fit onto a much smaller shelf or be stacked close together. But all of the negative space makes the room look even larger. We love how the items add pops of color to an otherwise neutral zone.
In this space, a marble shelf placed on top of a radiator acts as a book ledge! If your home is tight on square footage, finding little nooks for your stuff is key. A word of caution, though: Some radiators grow hot to the touch, so this book storage method may be a summer-only option.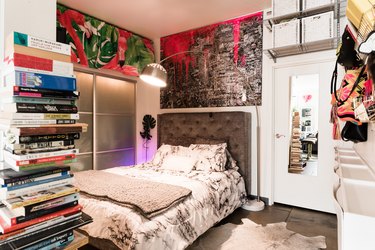 No corner is left empty in this maximalist bedroom. A narrow wall gets dressed up with a vertical stack of books, which adds color to the white-walled space while taking up a small amount of square footage. To recreate this look, hang several short floating shelves and add books!
Is your book collection fairly large? If so, make a wall of it! In this living room, wall-mounted track shelving spans the full length of the space, creating a built-in look. To recreate this design in your own home, find an expanse that is approximately the same size as your collection. Then fill in with your fave reads, plants, decorative objects, and sentimental items for a cool, collected look.