If there's one thing we know, it's that matte black-and-white kitchens are always a good idea. Equally at home in a modern, industrial, or farmhouse setting, it's a color scheme that routinely gets massive likes on our Insta. So it just made sense that when we partnered with Walmart to give the Hunker House kitchen a makeover, we opted for this look.
So what were we dealing with? Take a look at the "before" pic: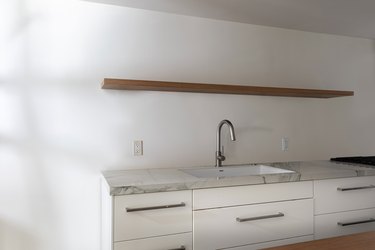 What a difference, especially given the ease and quickness of the improvements. Because the house is a rental, major changes were off limits — but with just a few key items from Walmart, we updated the space without risking our security deposit. Let's dive in!
Step 1: New Drawer Pulls, Handled
Installation is a breeze — all you need is a screwdriver. We love the way these pop against the white cabinets, and their slightly heftier profile feels more modern than the stainless ones we'd had before. Of course, we were super careful to keep all the old hardware — including screws — in a safe place, so we can replace them when we move out.
Tip
When ordering drawer pulls like these, be sure to measure the size correctly. The length of the item refers to the measurement from hole to hole, center to center — not the total length of the handle.
Step 2: A Scene-Stealing Faucet
We were thrilled to find this gorgeous, ultrachic Delta Trinsic Faucet in matte black ($391.27) at Walmart. It's so on-trend, and its dimensions were an exact match for the old faucet, so we knew it would sit well in the space. It's the perfect companion to our new drawer hardware — the minute we saw them together, we knew things were coming together.
Tip
If you're planning to install a backsplash on the wall behind the faucet, do it after removing the old one and before putting in the new one: it makes installation a lot easier by removing any obstruction of the wall.
Step 3: Backsplash to the Future
Last but definitely not least, the kitchen desperately needed a backsplash — not only to create an Insta-ready look, but also to protect the wall from kitchen moisture and splatter. While we love ceramic tile, it wasn't an option in our rental. Luckily, we found Simplify's Geo White Peel-And-Stick Wall Tile ($19.00 for a pack of 4), which we simply love. The triangle pattern is so stylish, and the subtle layers of translucence and reflectivity mimic glazed tile perfectly.
We made sure to calculate the area we needed to cover before ordering — and then added some extra to make sure we had enough in case of mistakes. As it turned out, applying the tile was incredibly easy. We loved it so much, we decided to run it all the way up to the bottom of the open wall shelf.
Step 4: The Perfect Undermount Sink
We didn't actually replace the sink for this reno — for the simple reason that we love the one we had: a Blanco Precis 30" single undermount sink ($411) that has stood the test of time — and looks none the worse for wear.
Step 5: Instant Granite-fication
If you love the look of our marble countertop but don't love the idea of splurging on the real thing, Instant Granite's White Marble ($59.99) peel-and-stick countertop surface will give you the same look — without the high price or messy installation..
Step 6: Don't Forget the Daily Grind
While not as flashy as a new faucet or backsplash, some of the most important kitchen elements are ones you don't see. To wit: a good disposal, which will keep your sink clean and your kitchen waste under control. You can't go wrong with GE's Disposall model, which offers easy installation and plenty of torque.
Step 7: Accessorize
Not only were we able to find all the materials and tools for the renovation at Walmart; we also found a trove of stylish kitchen accessories, dishes, and decor as well.
To get the look, check out these key pieces:
This solid, sturdy marble crock is perfect for your kitchen utensils — its weight will prevent tipping, and the modern design works perfectly in the space.
A big, wood cutting board is a must-have for any kitchen — and when it's as gorgeous as this one from Ree Drummond's line, it does double-duty as on-trend decor.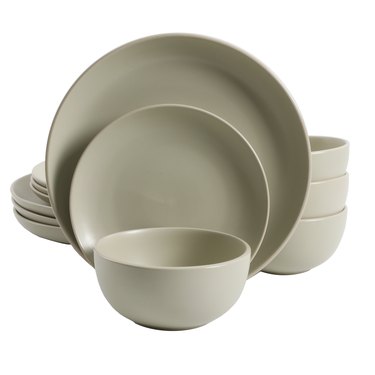 These dishes have such a lovely, organic feel. They remind us of artisan pottery that costs many times more — and come in a range of colors to suit any kitchen.
Perfect for our black-and-white kitchen, this trio of canisters combines style and storage. The cursive labels are just cute enough (but not too cute).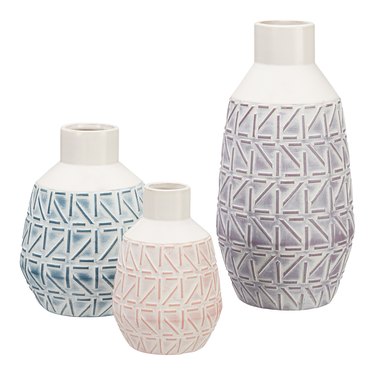 The vases in this 3-piece set look great arranged together — and equally great on their own.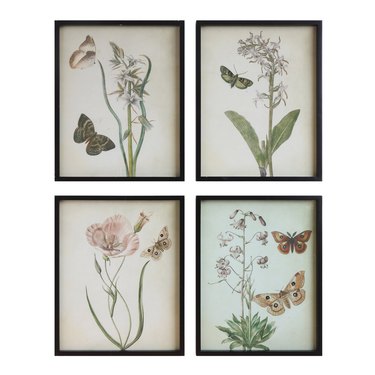 A touch of botanical softness is just the thing to bring some organic energy to the space — and these beautiful, vintage-style illustrations create a perfect juxtaposition agains the modern lines. Then again, they'd lend charm to pretty much any room of the house.
And there you have it: an easy, inexpensive update that yields super-stylish results. Best of all, we were able to find everything at Walmart to suit our taste, skill level, and budget.