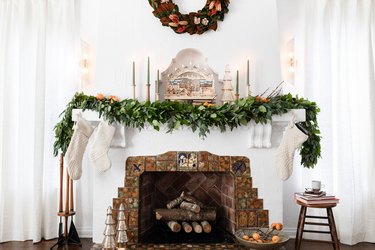 Dating is difficult enough as it is and yet, the coronavirus pandemic and resulting safety measures have taken that struggle up a notch. Between social distancing, mask wearing, limited sharing, and quarantining, how are you supposed to date someone new or even someone you're currently in a relationship with? Plus, now that the holidays are coming up (aka the perfect time for seasonal dates), what are the best holiday-themed, yet pandemic-friendly, date ideas?
To help you plan for future dates and meetups during the holiday season, we reached out to dating and relationship experts. Thanks to their expertise, they were able to recommend date ideas that are perfect for the holidays while keeping the CDC's health and safety recommendations in mind.
"Romantic connection in relationships really thrives off the unknown and the air of mystery, so keeping up with innovative ways to date in person or online is key," dating and relationship expert Sarah Louise Ryan tells Hunker, recommending that couples create a mystery date jar.
All you have to do is fill a jar with date ideas that you're both comfortable with, which can be virtual or in person, holiday-themed or otherwise. Then, every week, one person can pull out a random date idea that you two can do together.
2. Virtual Parties and Dinners
If you're single and looking to meet potential partners, consider a virtual holiday gathering. "Find ways to virtually meet people through video Zoom parties or even dinners that you can host and invite friends to," Stacii Jae Johnson, a dating and relationship fixer, tells Hunker. "Make those holiday Zoom parties fun by telling your friends to invite a person who you don't know — that way you are meeting new people while having fun hosting your holiday gathering."
Johnson adds that quarantine dating can be a blessing in disguise because it allows people to truly get to know each other without outside distractions.
3. A Black-Tie Holiday Dinner for Two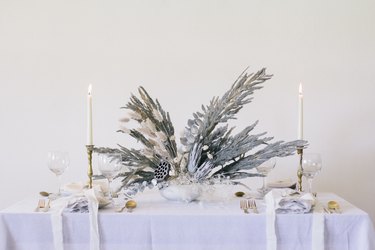 Candice Jalili — a dating expert, writer, and author of Just Send the Text — suggests a black-tie dinner made for two. "Get dressed to the nines and order take-out from the nicest restaurant in town," says Jalili. "Make sure to go all out — bust out the nice dishes, and throw a tablecloth and candle on the table to really set the scene. Once you're done with dinner, you can top the night off with a little dancing in the living room."
For the holidays, you two can even create a seasonal table centerpiece and holiday music playlist.
If you're tired of watching movies at home, Jalili says, "Check where the nearest drive-in movie theater is and enjoy a nice old-school date night." During the fall and winter, these theaters are also likely to show classic holiday films, which you can complement with homemade treats.
"If an ice-skating rink near you is open for some safe, distant, masked skating, try going for a fun ice skating date," suggests Jalili. Or, perhaps a nearby pond is available and, most importantly, safe for you two to skate on.
6. Holiday Decoration Tour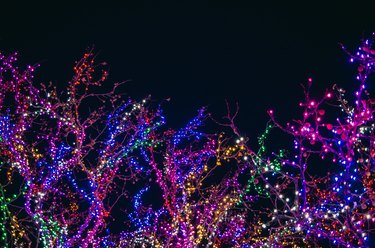 For an easy, free, and fun holiday date idea, Jalili advises, "Take a walk around your neighborhood and check out all of the fun holiday decorations. You can each pick your favorites." Beforehand, you can also bake holiday cookies together, which you can enjoy on your walk with a cup of hot cocoa.
If you're looking for a unique date, Ryan recommends planning a cook-off. "Date night, whether in person or virtually, could be really fun if one person picks a dish for both to have a cook-off together," Ryan says. "Planning the ingredient shopping, cooking together on a video call or in person, and doing a taste or visual test might be a great way to share time together." Plus, you can customize this date with holiday-themed treats.
8. Pick Out Holiday Decor
No matter what holiday you celebrate, you two can spend time picking out decorations together. For instance, if you celebrate Christmas, Susan Trombetti, matchmaker and CEO of Exclusive Matchmaking, tells Hunker, "Cutting down your Christmas tree on the tree farm with your date is a lovely, romantic, fun date … It's outside and safe, and it makes for a very meaningful time together."
Ryan also recommends a quarantine happy hour, but with an important dress code caveat. "[This can be] an excuse to get dressed up and join each other on video call, if not in person, or for date night at home if quarantined together," she says. "Not having the opportunity to get out of those comfy clothes has been a big hurdle for some people and couples, so it's time to spruce up and impress your significant other."
When asked for a unique date idea, Laurel House, a celebrity dating coach and owner of Love Actually Academy, tells Hunker, "Go to Paris! You can take a video tour, together, of museums and historical spots all over the world, virtually walking through, exploring, and learning new things. Couples connect through shared experiences, and this is a way to do something new together without leaving your home."
You can find a list of fun virtual experiences here, and if you find a place you're interested in visiting, you can even check to see if they have any special, holiday-themed virtual events or offerings.