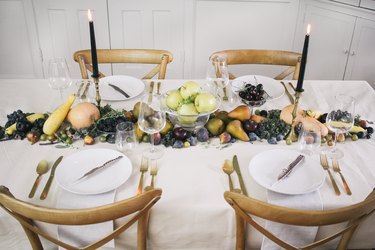 As fall arrives on our doorstep, it's time to start thinking about Thanksgiving plans. Of course, given the fact there's a little thing called COVID-19 hanging around, Thanksgiving 2020 celebrations might look a little different than normal.
The Centers for Disease Control and Prevention (CDC) has released its guidelines for how to host a safe holiday gathering this year — here's the breakdown of their tips.
If you plan on celebrating Thanksgiving this year, it's best if you do so with only the people in your household — simply put, this is the only way to decrease the risk of contracting the virus. The CDC also recommends you watch sports events or parades from home, and do your Black Friday shopping online. Essentially, the activities that you would normally do in person around this time of year would best be done virtually, not IRL.
If you want to incorporate those outside of your household into your Thanksgiving festivities, consider having a Zoom dinner, or, as the CDC suggests, "[p]reparing traditional family recipes for family and neighbors, especially those at higher risk of severe illness from COVID-19, and delivering them in a way that doesn't involve contact with others."
Should you decide to host guests who aren't part of your household, you should have your gathering — a small one — outdoors if possible. (The CDC provides additional tips for safely hosting gatherings here.) The risk of spreading the virus in this scenario is moderate, but it's a better plan than hosting people indoors.
Other outdoor autumnal activities like visiting pumpkin patches, as well as attending small outdoor sports events (AKA not an NFL game), are also at a moderate risk level, according to the CDC. If you go, practice social distancing, wear a mask, and sanitize your hands regularly.
Most importantly, the CDC advises against attending large public events like parades, races, or football games, as well as going shopping in-person on Thanksgiving or Black Friday. Avoid large indoor gatherings, especially if alcohol will be consumed, as that may lead you to make unwise decisions that put your health and others' well-being at risk.