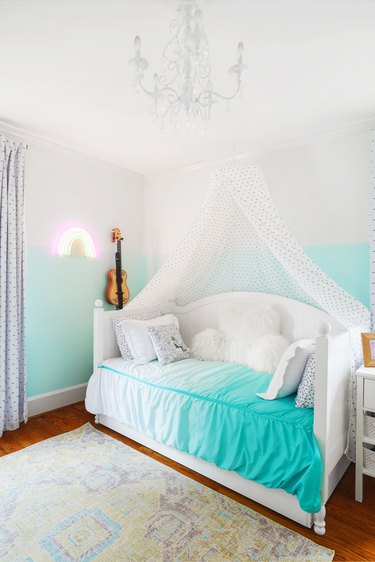 A little paint can go a long way in a room — if you know how to use it. To prove our point, we asked a few of our interior designer friends how to revamp a whole room with a gallon of paint or less, and their insight didn't disappoint. From statement walls to color-blocked bedrooms and beyond, read ahead for nine ways to transform a humdrum space with just a single bucket of paint.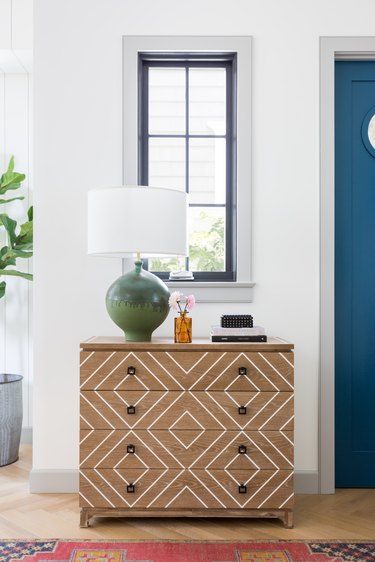 Nothing livens up a monochrome room faster than contrasting trim. "White trims are boring," says Kate Lester of Kate Lester Interiors. "Contrasting trim is such a great way to add a punch of color to a room, while keeping it feeling sophisticated and classic. I especially love gray or taupe trim with white walls."
2. Paint your built-in cabinets and shelves.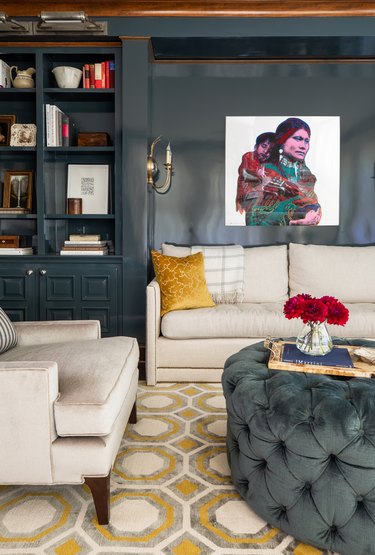 According to Marie Flanigan, built-in cabinetry is a functional necessity that can often appear drab and run-of-the-mill. "To completely transform your shelving, choose a bold paint color in a high-gloss finish," she says.
If you have a freestanding tub at home, such as a clawfoot tub, Anna Filippova of Hyphen & Co. suggests giving it a fresh paint job to revamp your bathroom. "Painting a freestanding tub with an accent color will instantly upgrade your bathroom and make it a focal point in the space," she explains. "All you need is one bucket of paint that is suited for the tub's material."
4. Paint moldings in a contrasting color and finish.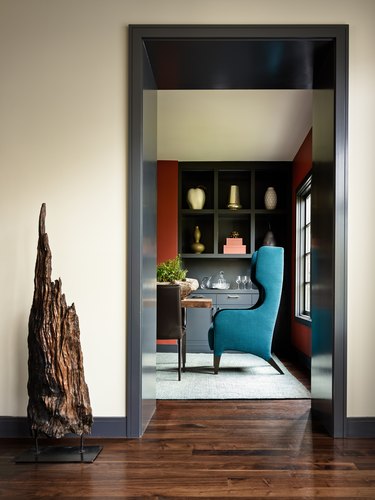 Kendall Wilkinson says that contrasting colors and paint finishes are key to making a visual impact in a room. "Paint your moldings and trims in a different color and finish than the walls to make a graphic statement without using a lot of paint," she advises.
5. Create a half-dipped look on an accent wall.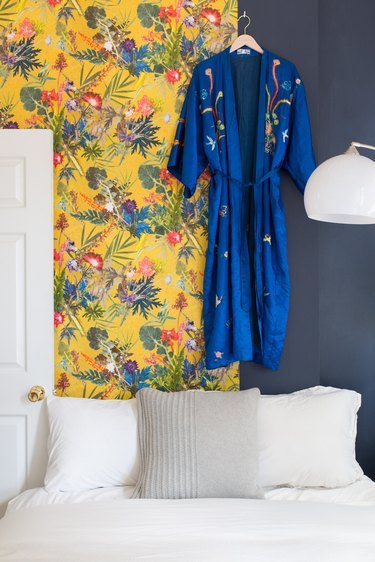 If you don't want to splurge on painting or wallpapering a whole room, Megan Hopp of Megan Hopp Design recommends combining a bit of both on a single accent wall. "We have all seen the one painted accent wall or one papered accent wall, but what about a room that has both? If you really want to make an impactful statement without committing to the cost and labor of a full room, try painting half your wall one color to pair with a corresponding paper print."
6. Paint a piece of furniture.
If you can't afford to paint an entire room, or live in a rental property with restrictions, Abbe Fenimore of Studio Ten 25 says painting existing furniture is a great way to transform your space. "It will allow you to bring in a little color and help to create a space that feels personalized without the major commitment," she explains.
7. Paint the inside of a door.
Looking for a goof-proof way to make a statement in a room with a single bucket of paint? Michelle Lisac suggests painting a door on the inside of a room in a bold hue. "This is a great way to dip your toe into the world of color if you are a little apprehensive, while bringing in a splash of fun color without painting an entire space," she explains.
8. Keep it monochrome all the way down to the trim.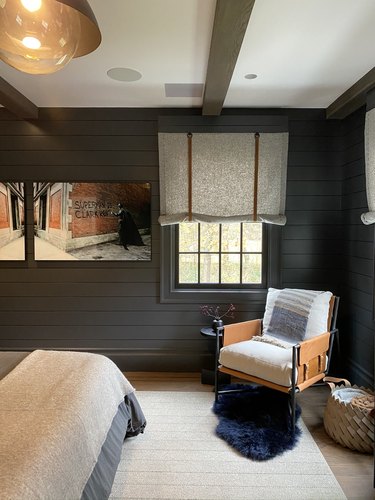 If you happen to have leftover wall paint from when you last painted your bedroom, Becky Shea recommends using it to paint the molding and trim of the room the same hue. "We're huge fans of continuing your wall color all over your bedroom to really make it impactful," she says. "That means hitting the base, casing, and trim with that bucket of paint, and we promise you'll love the new vibes coming out of your room. In certain rooms, there's something almost calming about having your accents blend nicely with the walls instead of having them contrast."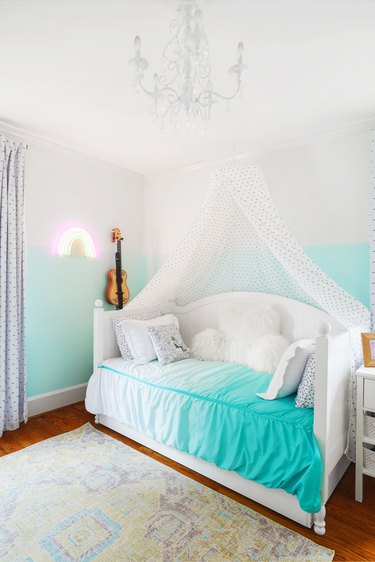 If you ask Isabel Ladd, color-blocking is an inexpensive and eye-catching way to punch up a room with just a little paint. "Start by visually taking in the entire room and then measure your wall's overall height and then divide it by three," she says. "Paint the bottom two-thirds a bold color. For some extra fun, mix in a touch of white and paint the middle one-third of the wall with the lightened color to create an ombre effect."