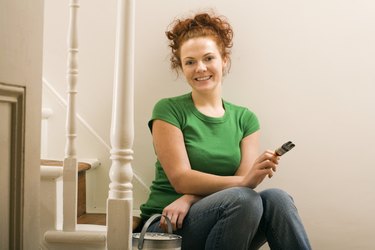 The color you choose to paint a room in your home is the most important decision; however, the type of paint you choose is almost as important. You need to decide between painting your rooms with a flat (matte) or a satin paint. The difference between the two is a big one: flat paints have no sheen and consist of more pigmentation, which means you need to use fewer coats. Satin paints have a higher sheen and make small spaces appear larger. Once you decide what paint to use, you need to consider what type of paint is already on your walls -- flat or satin. If you decide to use flat paint over satin paint, you need to prepare your walls for the change.
Step 1
Prep the walls you want to paint. Fill holes with spackling and smooth it with a putty knife, sand any rough spots and ensure the walls are clean. Even if the walls you are painting are interior walls, you need to run a damp wash cloth over the walls to remove any loose dirt or dust to ensure the best quality paint job.
Step 2
Run light sandpaper over the satin finished walls prior to painting. This will help the paint and primer stick to the wall and increase the longevity of the paint.
Step 3
Tape all trim and ceiling lines with painters tape to prevent your new paint from transferring onto surfaces where you don't want it.
Step 4
Prime the walls before painting them. Pour white primer into your paint bucket/dish and run your paint roller or brush through it. Apply the primer to the walls. It's easier to use a small brush in corners and along trim and a roller to do the rest of the walls. Reapply brushes and rollers with paint when necessary.
Step 5
Let the primer dry completely before you begin painting with your flat paint. Pour the paint into a bucket or dish and use a roller and paint brushes. Let the paint dry completely and apply a second coat as needed.