Squeaky is all about the borderline genius hacks and ideas that keep literally every inch of your space pristine.
I've discovered how I can clean three very specific messes in my home. But first...
Since then, I've used it as a cleaning solution in ways that have surprised me. Ways that I didn't think would work, but decided to give it a chance. And I'm sure you can guess where this is going …
It worked! Every time. Here's how.
To clean up pollen that stained my light kitchen countertops.
My husband gave me Stargazer lilies for our wedding anniversary, and while so beautiful, the pollen from the stamens will stain in an instant. (They are so lovely, so we continue to buy them and try to be careful.) However, when some of the pollen unfortunately dropped onto my white and light grey kitchen countertop, I freaked. Because there was an immediate stain. Some also stained my white kitchen sink and the cream ceramic vase we were using. So, my hubs said, "Hey, let's try the Magic Eraser!" In two seconds, the stains on the countertop, sink, and vase were completely gone.
To clean pizza sauce from my cream-colored, smooth stucco fireplace.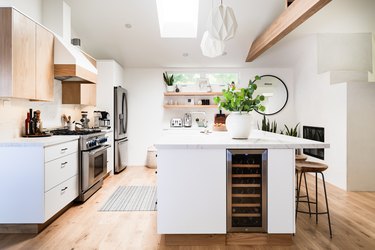 This might elicit a "Huh?" First, take a look at this photo above. You'll see that one side of my fireplace faces into my kitchen, right next to our island where we eat many meals. One night for dinner we made homemade pizza. My 14-year-old son grabbed a piece, did a quick spin of excitement with pizza in hand, and sauce flew from his slice and splattered across my fireplace, as if it were a crime scene. A long, red, jagged line. I realized I had to act fast, so I somehow had the idea to try the Magic Eraser, even though I felt like it was a long shot since my fireplace has a slightly textured stucco surface.
To start, I gently blotted with a towel, and then used the M.E., making gentle circular movements and light scrubbing. The stain disappeared. Like magic. (My son was grateful because no trouble; my husband was grateful because no spending money on re-stuccoing part of the fireplace.) We still marvel at the outcome.
To remove paint from my daughter's bedroom walls.
My 11-year-old daughter loves making art, and her bedroom is her own personal art studio. Art supplies are everywhere, and are on everything. Recently, I got in a cleaning kick and decided to use the Magic Eraser to remove big marks of paint from her walls. Boom! Gone. Just like that. And while I was at it, I also used it to get rid of finger marks and other smudges throughout her space. It felt so refreshing.
Moral of the story: When in doubt, Magic Erase it out. If (or, should I say, when) I discover new ways to clean with this genius tool, you'll be the first to know.
---
Laurie Gunning Grossman, Hunker's editorial director, caught the California boho minimalist bug. So, she bought a cream-colored couch. And she also lives with two kids and two dogs, so we'll see how that decision pans out.