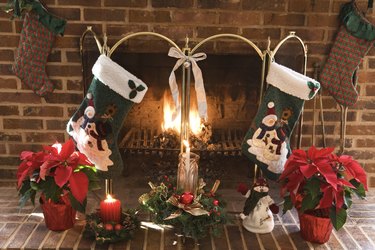 While Scrubbing Bubbles is a cleaning product designed for cleaning bathtubs, is also doubles as the perfect cleaning agent when you need to remove soot and residue from your brick fireplace. The Scrubbing Bubbles will foam on contact, and quickly cut through residue that has developed on the brick. This cleaning solution is strong enough to remove smoke stains and soot, yet mild enough to safely clean your brick fireplace without causing discoloration to the brick or grout.
Step 1
Place a towel on the floor or at the base of your fireplace, under the area you will be cleaning. This will protect flooring or other areas of the fireplace from absorbing any soot or cleaning solution.
Step 2
Moisten a towel with warm water, and scrub bricks of the fireplace. This will remove loose soot, making the cleaning process easier.
Step 3
Spray Scrubbing Bubbles directly onto the bricks of the fireplace, coating the bricks with a thick film of bubbles. Let the cleaning solution sit for three minutes.
Step 4
Scrub the cleanser into the bricks with an old toothbrush, which will provide an easy way to get into brick crevices and also clean between bricks. Repeat until the entire area has been cleaned.
Step 5
Saturate a towel with warm water, and wipe it over the brick fireplace. This will collect loosened residue, along with any remaining Scrubbing Bubbles cleaning solution.
Step 6
Repeat, if needed, until the fireplace has been cleaned to your liking.