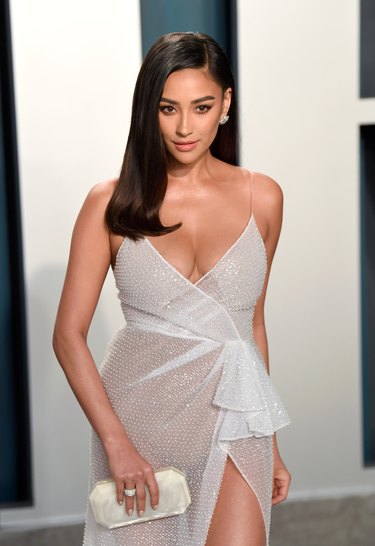 While I've been hunkering down at home, I've spent a lot of time perusing social media — this has been both a blessing and a curse. While it's an entertaining way to pass the time, it unfortunately, also shines a glaring light on the fact that I'm doing this whole quarantine thing all wrong.
Seriously, from completing entire home makeovers and challenging DIYs to dropping 20 pounds while baking flawless chocolate soufflés, everyone seems to have figured out how to be super productive — everyone except me that is. One such annoyingly perfect example is actress, girl boss, and new mom, Shay Mitchell. She recently posted a photo showing the world her secret to getting shit done: multitasking.
While safely and responsibly tucked away in her gorgeous Los Angeles home, Shay was able to indulge in some wine time, squeeze in a workout, and successfully participate in the no hair-washing trend that's all the rage these days. As I gazed at this photo in utter awe and disbelief — feeling the tiniest bit inadequate — two things occurred to me: 1) I secretly want to be her best friend; and 2) I am obsessed with that pink floral print on the wall behind her. Where on earth did she get it? I need it in my life!
It was then that I knew my mission was clear — I must find that wallpaper.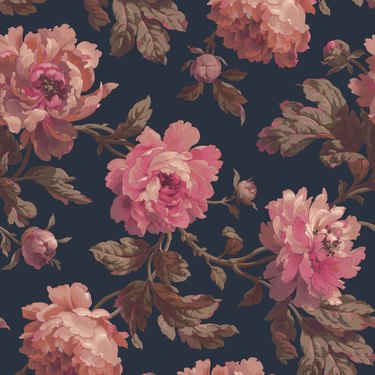 Although it took a bit of internet sleuthing, I eventually solved the mystery (or at least I think I did) — allow me to introduce you to the House of Hackney pattern "Peoneden." The rosy hue isn't too saccharine, and the black background gives it a moody vibe, which pairs beautifully with the old world-look of the peonies. Mix it all together and this wallpaper is the perfect mix of vintage glam meets modern drama (insert heart-eyed emoji here).
I don't know that I will ever be able to keep up with Ms. Mitchell's busy quarantine schedule, but at least I can have the same wallpaper as her. I mean, once I save up enough money to afford a single roll, I can have the same wallpaper as her. Dreams really do come true!