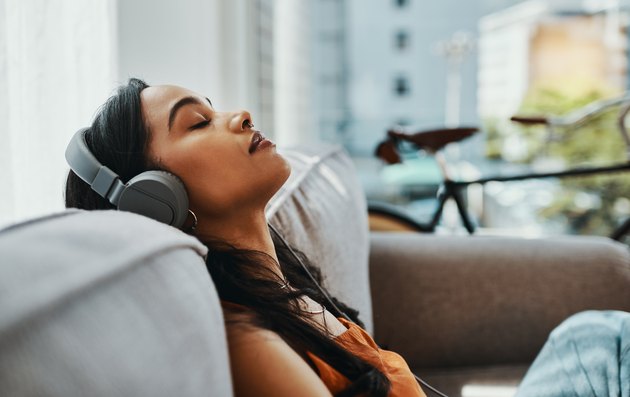 Struggling to catch up on zzz's after Daylight Saving Time? Sleep Week is here to help. From editor-tested bedding and slumber-friendly products to bed cleaning hacks, we've got everything you could ever need to up your sleep game. Happy snoozing.
Out of all the things we have to do during the day, for some, falling asleep can be the hardest. According to the Centers for Disease Control and Prevention, one in three adults doesn't get enough sleep. Whether it's work, friends, or relationships keeping you up at night, not getting enough rest can be brutal the next day. But you don't have to stay sleepless forever! From whispered bedtime stories to mindful meditations, there are plenty of podcasts and apps to help you fall asleep at night.
Here are eight of the best apps and podcasts for a better night's sleep.
1. Sleep With Me
The Sleep With Me podcast features hour-long "silly" bedtime stories for adults with host "Dearest Scooter," AKA Drew Ackerman. The podcast is meant to help keep your mind off whatever may be keeping you up at night.
Listen on: Apple Podcasts, Google Podcasts, Radio Public, and Spotify
2. Sleep Whispers
Sleep Whispers is exactly what you would expect — it's a podcast of "whispered readings and ramblings for relaxation and sleep." On the podcast, you can listen to meditations, stories, poems, and more, all with a soft whisper.
Listen on: Apple Podcasts, Google Podcasts, and Spotify
3. Nothing Much Happens
Nothing Much Happens is hosted by yoga and meditation teacher Kathryn Nicolai, so you know you're in for a soothing podcast to help you finally get some good shuteye. Nicolai writes all the stories you hear on the podcast and tells the story twice — with the second time around a little bit slower.
Listen on: Apple Podcasts and Google Podcasts
4. Meditation Minis
This guided meditation podcast is hosted by hypnotherapist Chel Hamilton to help with anxiety, stress, sleep, and even confidence in 10 minutes or less.
Listen on: Apple Podcasts and Spotify
5. Headspace
Headspace is an app known for its mindful meditations for anxiety, work, etc., but there's a whole section called Sleep by Headspace designed to help you chill out and fall asleep. Headspace offers some free content, but you can also opt-in on experiencing all the app's content for $69.99 annually (with a free two-week trial) or $12.99 per month.
Available on: iOS and Android
6. Calm
The Calm app is stocked with sleep stories, meditations, nature sounds, and so much more.
You can explore the app with a seven-day free trial, then the app costs $69.99 per year.
Available on: iOS and Android
7. Pzizz
The Pzizz app offers a customizable relaxation experience to help you sleep, nap, and focus. For each category, you can select what time you want to wake up or how long you want to nap or focus for, then customize intensity, music, and the voice of the meditation you're listening to. Some content on the app is free, but you can access more features with a premium subscription of $9 per month or $69 per year.
Available on: iOS and Android
8. Slumber
You can find stories, soundscapes, meditations, and music on the Slumber app to help put your mind at ease at the end of the day. Some content is free, but you can access more with a premium membership of $39.99 annually.
---
Pauline is a freelance lifestyle writer based in Providence, Rhode Island. When she's not writing, you can find her at her local yoga studio or scoping out hidden gems at flea markets and thrift stores.
View Work