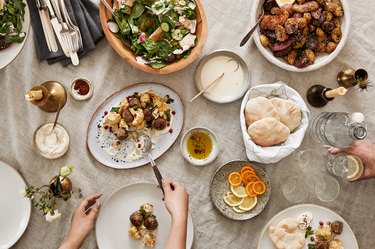 The TV dinner, a dubious gastronomical format even in its midcentury heyday, is a quaint relic in the era of cord-cutting and food porn. But people still need to eat — and, amazingly, they still gather at primetime.
So, for your next appointment-viewing soiree, fix this couch-friendly Mediterranean feast for your fellow fans — it's a general crowd-pleaser whether you're watching the Bachelorette reunion, the Deadwood movie, or the Game of Thrones finale. We've partnered with Food52, our favorite one-stop-resource for great recipes and beautiful table wares, to show you the way.
The Menu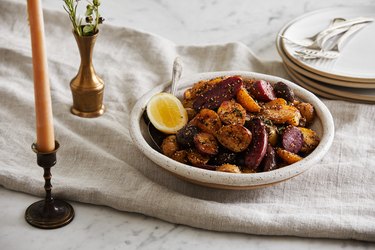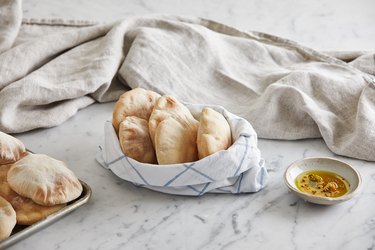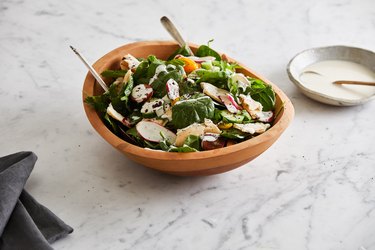 The Table
The Tips
When people are eating and watching, they'll likely be perched on couches, poufs, and other lounge seating, so you'll want to optimize your menu and setting for lap-dining. That means a few key principles should be considered:
No drippy, watery stuff. When someone's balancing a plate on their knee while ranting about a character's poor choices, the sustained horizontality of said plate is a bit much to hope for. Minimize the mess threat by choosing recipes that won't slosh.
Prepare fork-friendly foods. Between the plate, the utensils, the glassware, and the high-fives, your guests' hands will be busy. Expecting them to saw through a flank steak in the midst of all of this is unrealistic. Bite-size foods — or ones that can be easily dismembered with a fork — will make for a better flow.
Use stable glassware. Again, with emotions running high and surfaces at a premium, providing guests with sturdy glasses is just good sense. We might even suggest eschewing footed drinkware altogether, but we were just too obsessed with these Ngwenya wine glasses to follow our own advice.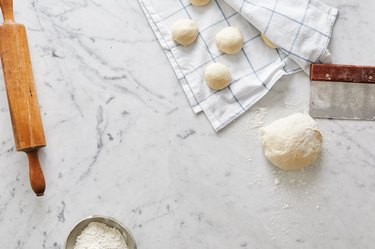 Provide extra napkins (and possibly some tissues). Doubling up on napkins gives guests the option of placing one on their laps, under their food. And, depending on the nature of the entertainment, weeping may be on the emotional menu, so plan accordingly — unless you want people blowing their noses in your linens.
Place the buffet within eyeshot of the screen. To ensure a smooth viewing experience for all, place the food nearby so people can grab seconds as they watch.