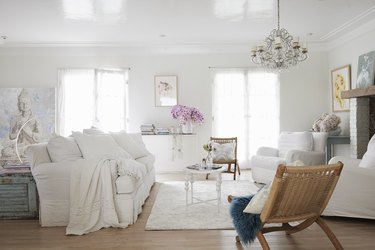 It goes without saying that Rachel Ashwell has mastered the art of designing warm, inviting, and, frankly, pretty living rooms. As the founder of Shabby Chic — you know, the beloved brand that specializes in dreamy floral prints and vintage-inspired homewares — she's an expert at juxtaposing relaxed linen sofas and rustic coffee tables with ornate light fixtures and gilded mirrors to curate spaces that possess an uncontrived sophistication. To uncover the designer's secrets for achieving an understated yet elegant living room, we went straight to the source — Rachel Ashwell herself.
When it comes to decorating a well-appointed living room, the most important thing to think about is the overall mood, Ashwell tells Hunker. "Usually, if it feels beautiful and comfortable and has an inviting feel, chances are it's right," she explains. "If something is amiss, then take a moment to reconsider what it might be and add or edit till it's right. Intuition and feeling go a long way to creating a beautiful home." That said, the designer has a few simple design guidelines that anyone can follow to create a warm and welcoming living room that boasts an air of relaxed elegance.
Vintage Living Room Idea #1: Invest in furniture that's beautiful, comfortable, and functional.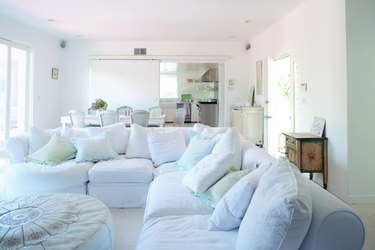 According to Ashwell, beauty, comfort, and function should be top of mind when selecting vintage living room furniture. "I like to have anchor pieces like a large and comfortable sofa that's either soft leather or slipcovered, for practical reasons," the designer tells Hunker. "I believe sofas should be lived-in and pets and children welcomed."
White denim and linen are Ashwell's go-to fabrics for large furniture items like sofas and armchairs. "[They're] timeless and a great base for layering colors by way of cushions or throws," notes the designer. "I also love velvet in smokey tones," offers Ashwell to those looking for a more sumptuous fabric. Think teal, gray, raspberry, and taupe.
Add texture to the room with embroidered and needlepoint pillows and chenille throws in soft hues, suggests Ashwell. "I'm not a great fan of primary colors as I find them too specific and overpowering," the designer reveals. "I prefer colors that blend and transition easily."
Vintage Living Room Idea #2: Paint your walls with soft, subtle hues.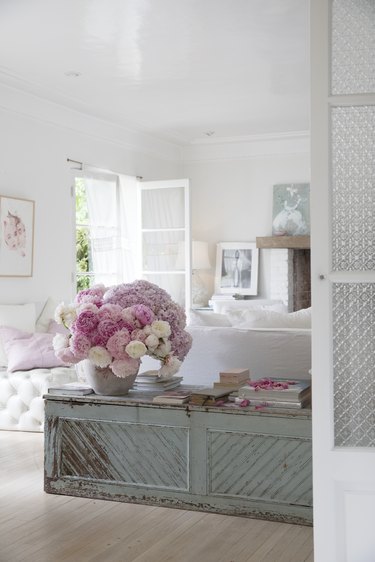 Ashwell recommends painting living room walls in a shade of soft white, rather than a cream. "But then a signature of mine is to paint from the floor up to about 36 inches so that there's a complement of color but it's not overwhelming," the designer explains. "At most, I might do one wall of color and leave the rest white."
Vintage Living Room Idea #3: Decorate with flowers, candles, and music. (Yes, music.)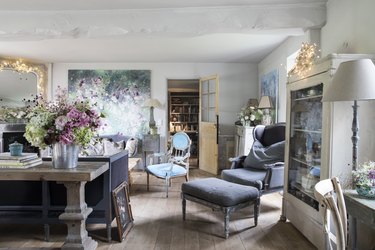 "Decor accents in my world have to include flowers, an array of candles (in only one scent), and music as part of the experience," Ashwell tells Hunker. For flowers, the designer recommends loosely arranging garden roses or wildflowers in an assortment of vintage vases.
In terms of candles and music, Ashwell has a few choice recommendations. "I love our Prairie Candle as well as Diptyque's Figuier Candle or Santa Maria Novella's Iris Candle," she offers. "Enya or soft classical music adds a vital component for the mood."
Vintage Living Room Idea #4: Incorporate vintage pieces.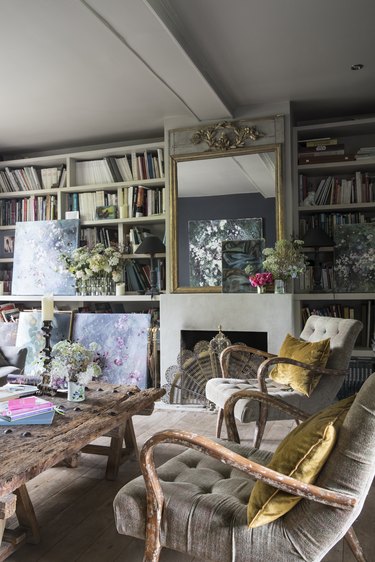 To curate a vintage living room that exudes relaxed elegance, it's crucial to layer storied pieces into the space, says Ashwell. Think, "vintage rugs, art pieces, and decorative pillows along with some chippy white or gold-framed mirrors," offers the designer.
Vintage Living Room Idea #5: Take your time collecting decor accents that you love.
Although it might be tempting to immediately fill your vintage living room with beautiful objects, try to resist going all out right away. "While I don't consider my design to be minimal, I am thoughtful when I decide not to bring something into my home. And that takes time," concedes the designer. "My design is a process. Pieces I have gathered over time."
Rather than rushing to fill your space, Ashwell recommends starting with anchor pieces and then layering in decor accents over time. "I like to see a nostalgic, timeless and romantic aesthetic but not over-the-top frou-frou," she explains. "And I like things to have a purpose. That purpose might just to be beautiful and pleasing to the eye — but not just to fill up space."
Vintage Living Room Idea #6: Aim to strike a balance between understated and elegant.
To achieve the ideal mix of humble and fancy, first and foremost, "every room should have a soft and welcoming place to sit," says Ashwell. Then, to lend an air of sophistication to a living space, opt for "soft twinkling lights, or a chandelier if possible," advises the designer. A bouquet of flowers (fresh or faux) further elevates the room, whether it's a vaseful of unfussy garden roses or a collection of ornate orchids, she notes.