Jennifer Wright may very well be the first person in history to describe apartment hunting in New York as a "wonderful, delightful event." Then again, the Brooklyn Heights home that Wright, politics editor-at-large for Harper's Bazaar and author of several history books, and her husband, Daniel Kibblesmith, a writer on The Late Show with Stephen Colbert, purchased last year is a rare real estate gem. Situated at the corner of a tree-lined street just a few blocks from the promenade, the single-family building is a former church with gorgeous stained-glass windows, a wood-burning fireplace, and a remarkable history.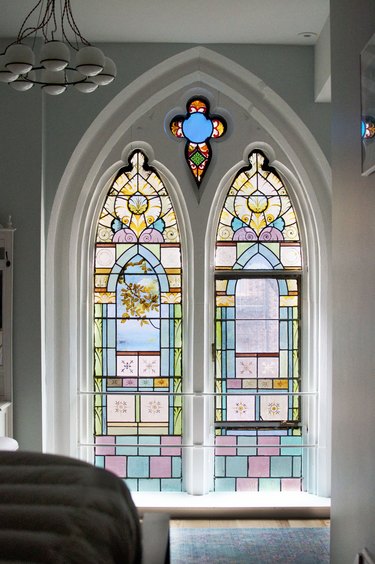 "There are a lot of nights where we still just sit around saying, 'I can't believe we get to live here,'" Wright marvels from her seat at the head of a wooden dining table, which seats six — huge by NYC/Brooklyn standards, and perfect for hosting frequent dinner parties. "It was on the Underground Railroad and then in the 1950s it was one of the first churches in Brooklyn to admit LGBTQ people. The Gay Alliance used to host their dances here in the 1970s. It's a really special place that has made us very thoughtful about the kind of values that we want to have. I hope we can live in a way that doesn't make any ghosts that are inhabiting this place really mad at us!"
It's hard to imagine anyone losing their temper, ghosts included, with "Charlie" in the room. That's the genderless nickname that Wright and Kibblesmith have bestowed upon Big Blue, an enormous, hand-crocheted fiber portrait by artist Caroline Wells-Chandler that takes up one wall in the dining area.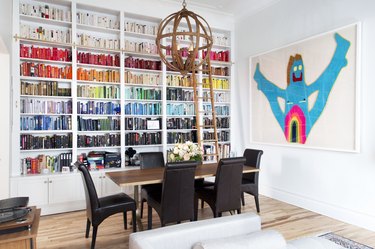 "[Wells-Chandler] works in a fashion that reminds me a lot of Keith Haring," Wright tells Hunker, the framed 6-foot-by-6-foot technicolor vision splaying its turquoise legs in a wide V behind her. "She's dealing with transgender identity, but she does it in such a wonderful, joyful, whimsical way. I love that spirit."
Wright met Kibblesmith four years ago at a holiday party hosted by a mutual Twitter friend. ("As much as we complain about Twitter, we can at least be really happy that it brought us together!")
Wright and Kibblesmith married in August 2017, and after returning from their honeymoon, their real estate search began in earnest. Wright had experience with the New York real estate market, but says their expectations were "entirely unrealistic" nevertheless.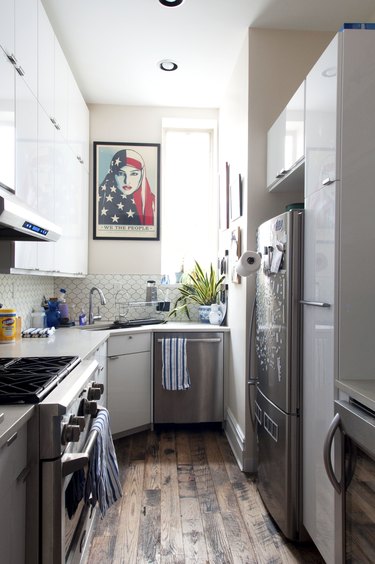 "We were like, 'This will take, like, a month, right? We'll just find a place that's great!'" Wright laughs. "No, it took almost a year. New York can be really frustrating — you're spending an amount of money that would get you a beautiful place most other places in America. But [in New York], you keep being shown places that are like, 'Well, the view looks into an office building, here is a sink that was renovated in 1975 — and it costs a million dollars!' We didn't want to spend that much money to buy a place that didn't seem really special to us."
Wright developed a nightly habit of scrolling through Zillow listings long after Kibblesmith had turned in, and a new listing for a two-story former church in historic Brooklyn Heights immediately grabbed her attention. Not only was it impeccably restored to maintain the original stained-glass windows, working fireplace, and spiral staircase, the church house was also in the couple's price range.
"I woke Daniel up immediately," Wright says. "I was like, 'We're calling them tomorrow! We have to get there first thing in the morning!' We were really lucky because they already had bids in, so we had to sweep in, in a very timely fashion, to get this place."
Wright works from home while Kibblesmith commutes into Manhattan, and he's given her "a very free hand in decorating" the way she'd like.
Downstairs, the large living room's mixture of simple, uncomplicated furnishings (a dove gray midcentury-style tufted sofa) and well-loved antiques (a large Persian rug) give the room a refined, but lived-in ease. A crackling fire and luxurious fur throw only adds to the coziness.
"We want to make sure that our home is always a very safe space for our friends to come and crash anytime they want," Wright says. "We've also reached out to some agencies that provide emergency housing for people who maybe need to come to New York for a night or two for medical procedures and don't have a place to stay. We really want to be respectful of what this place has represented."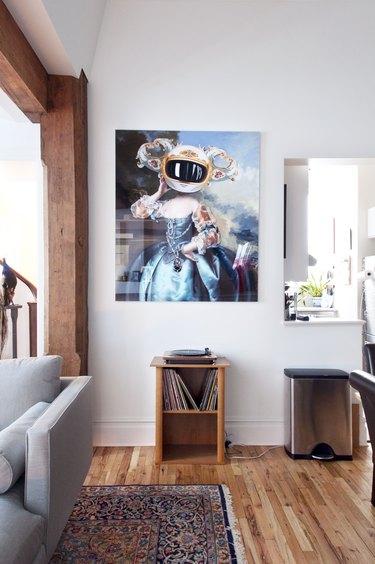 The abundant wall space and bright, natural light is ideal for showing off Wright's modest, but thoughtfully curated art collection. On one wall hangs a rococo-style painting by Brazilian artist Lúcio Carvalho of a woman wearing 18th-century finery and an astronaut helmet covered in teacups.
Above the mantel, a piece by Bob and Roberta Smith (the pseudonym used by British contemporary artist Patrick Brill), New is the New Old, captures a similar spirit, and, Wright says, "has become an unofficial motto for our home." Hanging on an adjacent wall is another graphic text piece by Brooklyn artist and friend Nic Rad, Madame X, Mad Men, Mad Max — "all things that I love very much," Wright shares.
Wright's taste has a certain feminine fanciness, but there's always a twist that veers away from the traditional. In one corner of the living room sits a simple dress form wearing a corseted bustled skirt, the topless bust plastered in Victorian advertisements — and perched at the top of its delicate neck, slightly askew, is a chandelier with working lightbulbs.
"I've carried that around with me since I was a teenager," Wright says fondly. "I'm so attached to it. I spent all my babysitting money on it."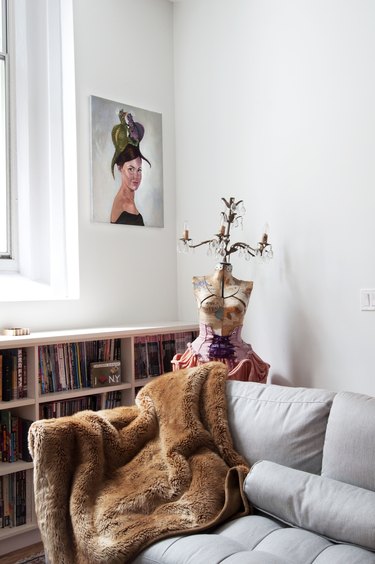 Just behind it hangs a more recent tribute to Wright's taste for oddball glamour.
"When we got married, Daniel wanted to get an old-school oil painting of his 'beautiful wife,' but I thought it needed something a little extra, personality-wise," Wright says of the portrait Kibblesmith commissioned. "So we found this lovely artist named Bahar Sabzevari who was showing at the Tribeca Arts Ball, which supports young artists who are in the New York Academy of Art."
Wright's painted visage gazes over her shoulder, but sitting atop her formal updo — almost like a fascinator Princess Beatrice might wear to shake up a royal wedding — are two halo-wearing dinosaurs.
Books abound in the Wright/Kibblesmith home, packing the floor-to-ceiling built-in bookshelves in the dining room. The shelves were custom-built by a friend, Brian Spinks, and include a rolling ladder, which Wright describes as a "Beauty and the Beast fantasy, but without being married to an abusive buffalo," and books are arranged by color: "I firmly believe that when you think of a book, the first thing that comes to mind is the cover."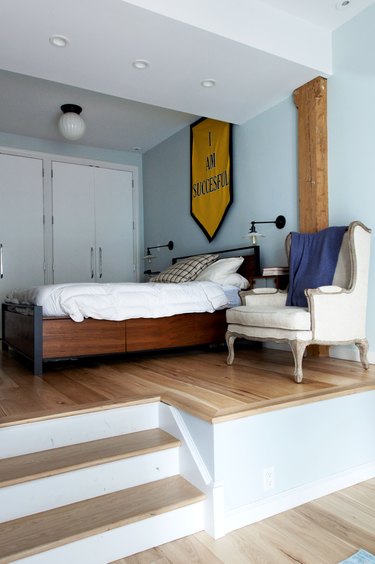 The upstairs bedroom is uncluttered and much more neutral, save for the large yellow banner that proclaims "I AM SUCCESFUL" (the typo is intentional). Floor-to-ceiling stained-glass windows fill the bedroom with light and keep out prying eyes.
"It's amazing to be able to wake up every morning and look at this," Wright says. "I begged Daniel not to put up curtains."
Another room down the hall is currently being used for storage, but Wright and Kibblesmith are hoping to one day turn it into a nursery. They've already got one children's book on the shelf downstairs — Kibblesmith's Santa's Husband, illustrated by A P. Quach and published in 2017, was born out of a tweet that poked fun at the outrage over a black Santa at the Mall of America.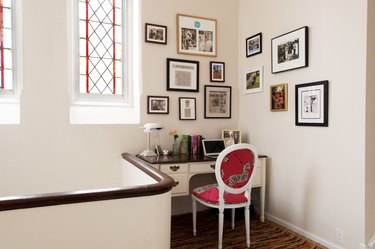 In between the two bedrooms, tucked into a nook at the top of the landing, Wright has set up her home office, with an antique chair reupholstered in bright-red fabric covered in zebras and a shabby chic desk.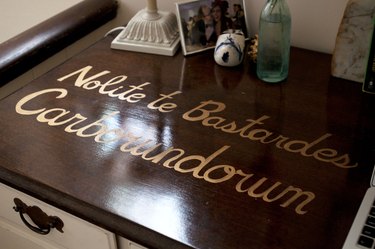 The top is inscribed with "Nolite te Bastardes Carborundorum," taken from one of her favorite books, The Handmaid's Tale by Margaret Atwood. This is where she does most of her writing, be it her column for Harper's Bazaar or her forthcoming book, We Came First, which will be full of dating advice from historical women like Cleopatra and Joan of Arc.
"I always joked that the only way I would ever write a sex and dating advice book would be if all the advice was from dead historical women and most of it was bad," Wright laughs. "Like, for example, Nell Gwynn laced her rival's food with laxatives to make her have terrible bowel movements when she was with King Charles II. Cool move, Nell, cool move. I'm a little worried that people will think that I think poisoning your mother-in-law is a good idea. I personally don't — but just know it's advice that's out there!"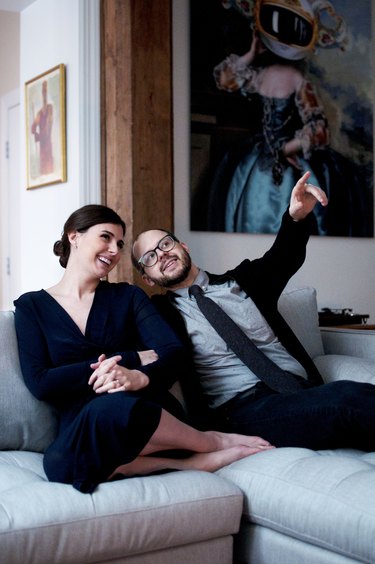 Wright and Kibblesmith have settled into their new Brooklyn abode, but the move is still relatively new, and the excitement of having found the church house hasn't worn off in the slightest. Neither has Wright's gratitude for their good fortune.
"I feel like this is a place where if we never move again we'll be so happy," Wright tells Hunker. "And I hope we always feel that way."