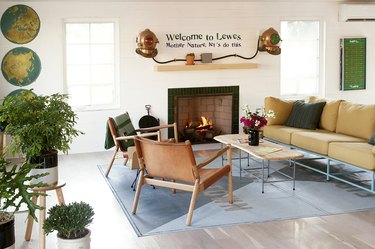 Sam Calagione — founder and president of Dogfish Head Craft Brewery — often paddled past a nondescript, family-run motel hugging the Lewes, Delaware shoreline. He didn't think much of it — that is, until his wife Mariah saw it up for sale one day.
The Vesuvio Motel, as it was called back then, had been family-owned since the early 1970s. Mariah scheduled a meeting with its owners, and before you knew it she and Sam were motel owners.
The 16-room, midcentury Dogfish Inn (plus a two-room cottage suite dubbed Cottage Sweet) opened in July 2014 with a crisp, nearly all-white design.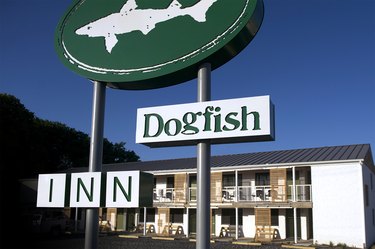 So what prompted the Calagiones to expand from beer into the hospitality industry — a whole new beast? They already had a brewery and production facility in Milton and two restaurants (Chesapeake & Maine and Brewings & Eats) in Rehoboth Beach, after all.
"Beer is a huge piece of who [the Dogfish brand is] — it's in our DNA," Dogfish Inn innkeeper Andrew Greeley told Hunker. "Food is also a huge part of it, and art and music. As we've grown, we've become more and more about the all-encompassing experience. We're home base for [visitors] exploring not just Dogfish Head but also coastal Delaware."
With this in mind, Brooklyn, New York firm Studio Tack took on the remodel of the inn. About a dozen designers collaborated, including Flint Alley Furniture in western Pennsylvania and two makers of furniture and lighting: Fort Standard in Brooklyn and One Forty Three in Henderson, Nevada. Local artist Steve Rogers painted a unique homage to the nearby Lightship Overfalls (a ship), which is a National Historic Landmark, for every room. These paintings are hung in One Man Gathers frames, born out of wood salvaged from a New Jersey barn.
Above all, the goal of the inn is to get people off the beaten path.
"We've done that with our beer styles, and we want to do that with our hotel," Greeley said.