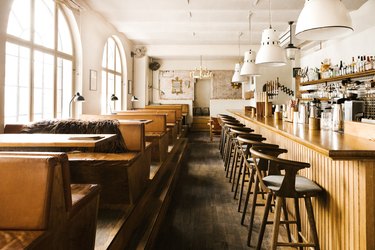 Where: Copenhagen, Denmark
Some nights you feel like grabbing a drink in a bright and lively bar, while others you may want to slide into a booth and enjoy a cocktail and conversation. And other nights call for whiskey in front of the fireplace. If you happen to be in Copenhagen, Lidkoeb is perfect for all three moods.
Rasmus and Adeline Shepard-Longborg, who also own sister bars Ruby and Brønnum, added Lidkoeb to their cocktail empire six years ago. The three-story bar in the trendy Vesterbro district is set in a house built in 1886 by pharmacist H.P. Madsen. The building housed a production facility for the Vesterbro pharmacy for over 100 years, but it had become abandoned once the facility shut down in the 1980s. When Rasmus spotted it in 2010, he saw the potential to revive the property and offer cures of a nonprescription sort.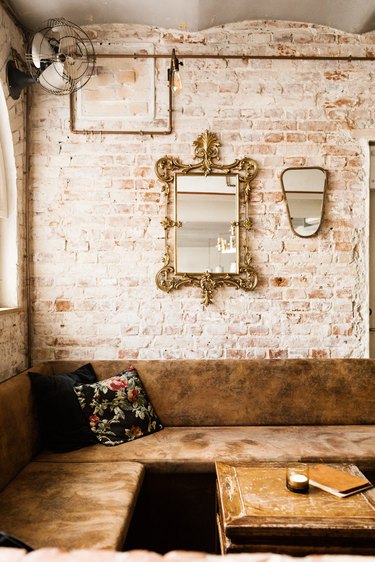 Lidkoeb was built from the ground up — starting with the bright main bar on the ground level. "It has a real Scandinavian feel with a lot of natural light, which is not always common in cocktail bars," says general manager Colin Edie. Once the main bar was bustling, they moved on, or up, to the second floor, where the space is outfitted with large cozy booths and vintage portraits. The last addition was the top floor whiskey bar. "It is just a special place, particularly in winter, when there is snow outside and you are by the fire with a nice dram," he says. "It is hard to beat."
The first two levels focus on cocktails and have a livelier atmosphere. On Saturday nights, the second floor bar turns into a party as DJs play. The top floor feels like an escape from the city, where you can curl up on a Chesterfield sofa amid warm woods and exposed brick. No matter your taste in cocktails — or design — Lidkoeb has a space for your perfect night out.