One of Detroit's newest hotels is delightfully stuck in the 1920s and 1930s — in a good way.
Gold tassels dangling from furnishings and lampshades and pom-pom bedspread trim are just two clues. The 106-room Siren Hotel's maximalist design also extends to bejeweled chandeliers and curtained doorways. Nearly every upholstered piece of furniture is wrapped in plush velvets and silks — the deeper the color, the better (for example, midnight blue).
When it came time to rehab the 1926 Wurlitzer building — which had been operating as a musical instrument store, then hosted various tenants before falling into disrepair — Will Cooper, chief creative officer at ASH NYC, a Brooklyn, N.Y., real estate development and interior design firm, immediately spotted its "architectural integrity." Some of the wood, terrazzo, and travertine floors are original, and a fragment of the original ceiling in the lobby is too (it's even more gorgeous now that it's been preserved).
When the design team found an amazing article published in The Metro Times in 1926 featuring details from the original interiors, they knew they'd struck gold. Now they could truly honor the building's roots. "We pored over this to find the original wall colors, ceiling colors, materials, uses, etc.," says Cooper.
1 of 12
Lobby
Every furnishing piece within the hotel was custom-made — including these gold-fringe blue chairs, ottomans, and cheetah-print side chair — and the millwork was fabricated partially by Richard Ganas and Great Lakes Woodworking, both in Detroit.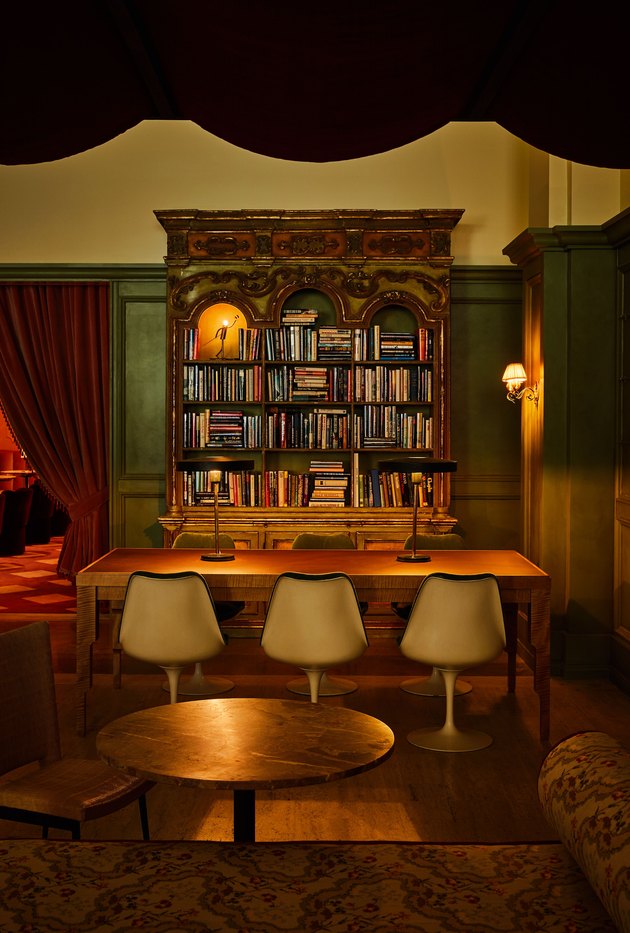 2 of 12
Lobby
Tulip chairs are joined by a brocade sofa, green walls, and a heavy red curtain for this dramatic nook in the lobby. "Our public spaces are really designed to be a living room for our guests and the people of the city," says Cooper. "We researched high and low to find references from grand dame hotels in Detroit and in America from the twenties through forties."
3 of 12
Room
"When working on the guest rooms, we were looking to capture a calming simplicity, something that spoke to a haven from the noise of the city still on the rise from its ashes," says Cooper. Period details like a pink vinyl ice bucket, rotary-dial phone, and ceramic tray holding snacks (not within a fridge or basket) complete the look.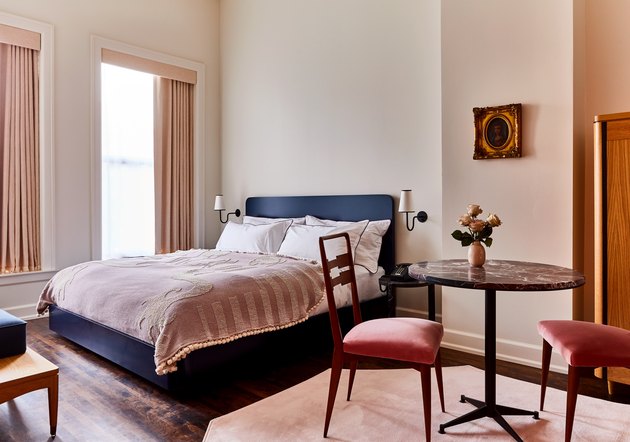 4 of 12
Room
"The [signature] blankets were made by Maine Heritage Weavers with a design created for the hotel by two Cranbrook students," says Cooper. They're sold in the hotel's shop.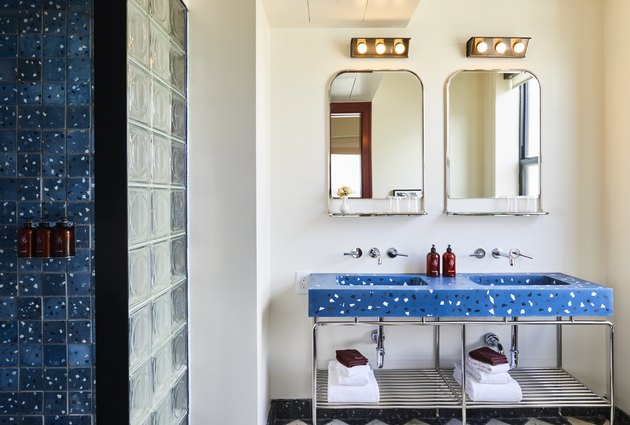 5 of 12
Bath
"The idea was to create captivating bathrooms as jewel boxes, as they are so small, in a material that was inherent to the original space," says Cooper. "We modernized it, of course, with the color choices."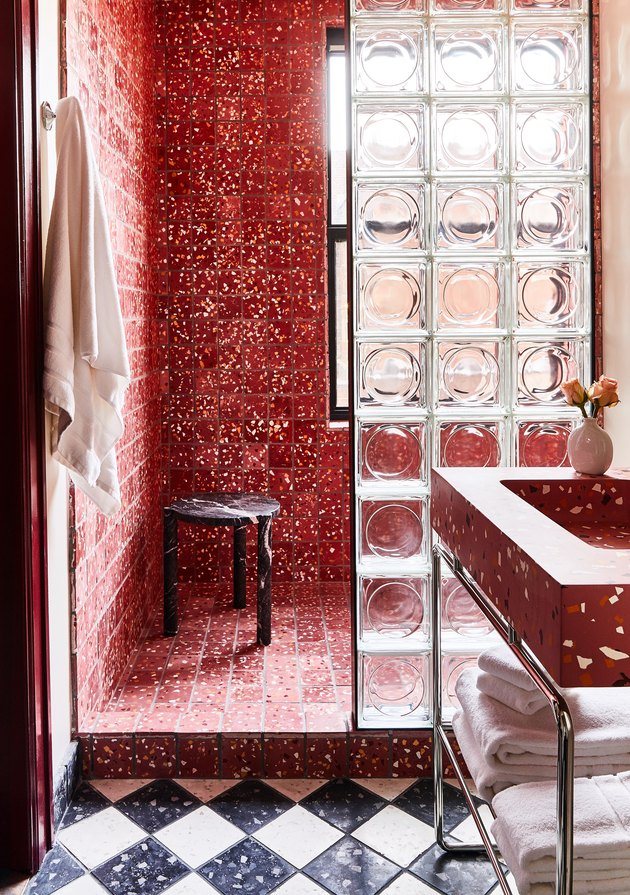 6 of 12
Bath
"The stairwells have their original terrazzo flooring, which inspired our new bathrooms," says Cooper. The palette inspiration was derived from The Guardian Building in downtown Detroit, which has Pewabic tiles on the facade and interior lobbies. Those tiles are still made in Detroit today.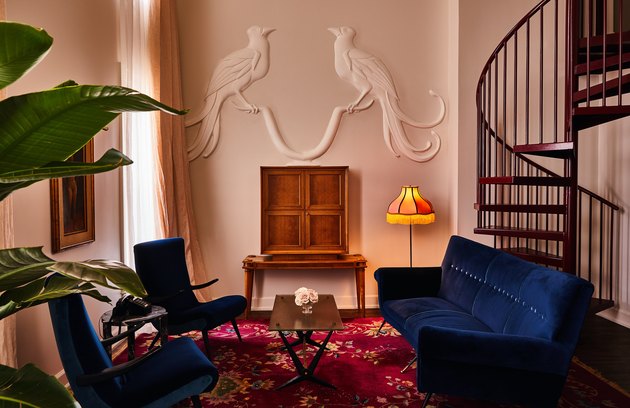 7 of 12
Penthouse Suite
In the hotel's penthouse suite, midnight-blue plush armchairs and a sofa are arranged on a Persian area rug with nods to wildlife (the wall murals) and again, the '20s (with a fringed lampshade).
8 of 12
Candy Bar
Awash in pink hues, the hotel's cocktail lounge (Candy Bar) was inspired by Motown, French moderne, and the disco era.
9 of 12
Candy Bar
A busy floor pattern, an ornate curtain pulled back in the doorway, and clamshell-back chairs are in the hotel's Candy Bar, a cocktail lounge.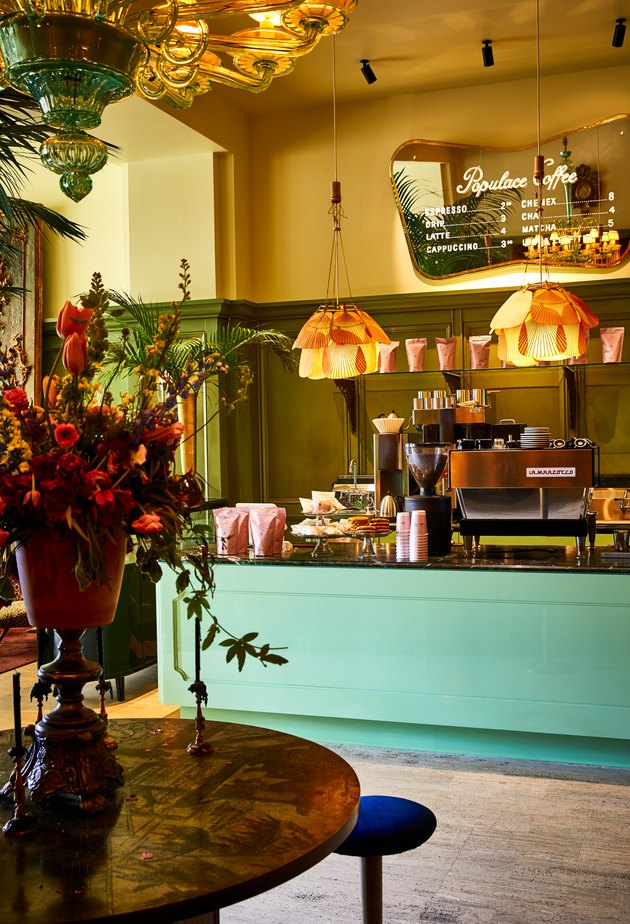 10 of 12
Populace Coffee
Populace Coffee debuted in Bay City, Michigan, and now has 40 cafes around the country, including one in the hotel's lobby.
11 of 12
Albena
With James Beard Award-nominated chef Garrett Lipar at the helm, a Great Lakes-inspired food menu is served in this minimalist-design eatery with pendant lighting, the ceiling painted a warm yellow shade, and wide-plank wood flooring.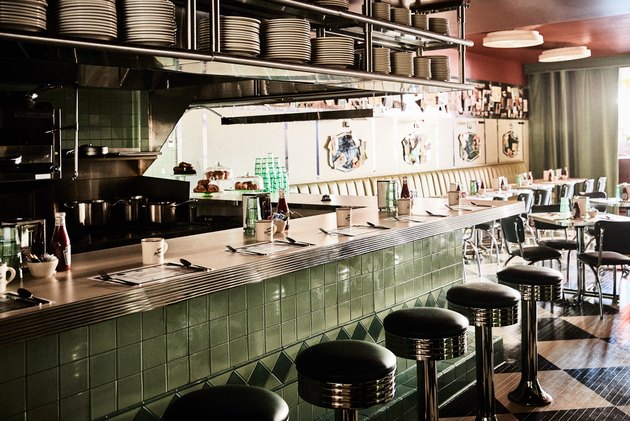 12 of 12
Karl's
Designed to emulate a retro diner, Karl's is the hotel's all-day, second-floor dining room from chef Kate Williams. It also includes a bar and lounge awash in '70s decor.
---
Based in Wisconsin, Kristine Hansen covers art, architecture, travel and food/drink, and lives in a 1920s bungalow.
View Work