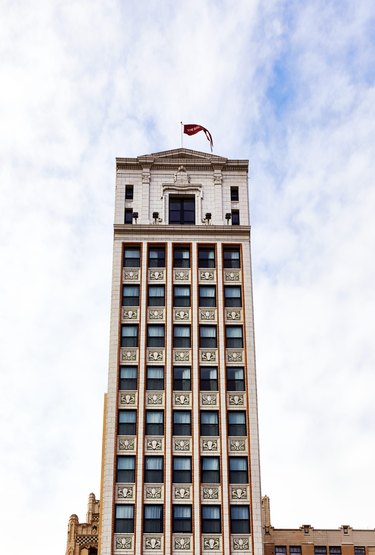 One of Detroit's newest hotels is delightfully stuck in the 1920s and 1930s — in a good way.
Gold tassels dangling from furnishings and lampshades and pom-pom bedspread trim are just two clues. The 106-room Siren Hotel's maximalist design also extends to bejeweled chandeliers and curtained doorways. Nearly every upholstered piece of furniture is wrapped in plush velvets and silks — the deeper the color, the better (for example, midnight blue).
When it came time to rehab the 1926 Wurlitzer building — which had been operating as a musical instrument store, then hosted various tenants before falling into disrepair — Will Cooper, chief creative officer at ASH NYC, a Brooklyn, N.Y., real estate development and interior design firm, immediately spotted its "architectural integrity." Some of the wood, terrazzo, and travertine floors are original, and a fragment of the original ceiling in the lobby is too (it's even more gorgeous now that it's been preserved).
When the design team found an amazing article published in The Metro Times in 1926 featuring details from the original interiors, they knew they'd struck gold. Now they could truly honor the building's roots. "We pored over this to find the original wall colors, ceiling colors, materials, uses, etc.," says Cooper.