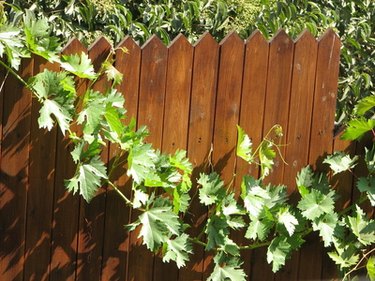 A fence surrounding a swimming pool is not only a decorative addition to a landscape, but also serves important privacy and safety functions. After professional installation of a new pool, though, homeowners may feel the burden of an empty wallet. Instead of busting the budget even further with an elaborate and decorative fence, consider some budget-conscious options that still provide the same level of function and form for your pool.
Chain-Link Fencing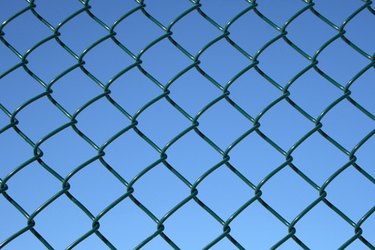 At about $8 per foot, chain-link fence is one of the most inexpensive options for building a pool fence. Chain-link fences are made of a weave of steel wires that create a sturdy, weather-resistant fence. Some local building codes prohibit chain-link fences around pools because they're easy to breach by climbing, therefore presenting both a falling and drowning hazard; check with your local building inspector before installing a chain-link fence. Another drawback of a chain-link fence is that some homeowners find them unattractive. To add both decorative detailing and additional privacy, plant climbing vines such as Boston Ivy or English Ivy along the fence border. If your budget is slightly larger, consider a vinyl-coated chain-link fence in either black or green; the color is a bit more appealing, and the coating offers additional protection against weather damage.
Wooden Fencing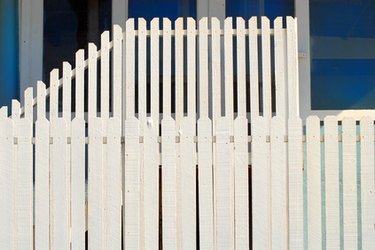 Wooden fences are a common option for yards and pool enclosures, but the style of wooden fencing significantly impacts the price. One of the cheapest options for wooden fencing is a split-post fence comprising several vertical support posts and two or three horizontal connecting board or logs. These farm-style fences are also commonly cited for local code violations, so be sure to check before you build. A split-post fence averages around $9 per foot. If your budget can stretch to $11 to $15 per square foot, opt for a close-slatted picket fence. Picket fences offer more privacy than other types of fencing and they're not likely to cause code violations. Pressure-treated pine boards are the most inexpensive wood option for picket fencing; the boards can be treated with stain for a natural look or painted for a more streamlined appearance.
Wrought-Iron Fencing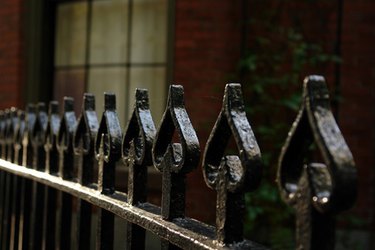 At the most expensive end of the inexpensive spectrum is wrought-iron fencing. At about $20 per foot, wrought-iron fencing is an expensive option compared to wood or chain link, but custom fencing, aluminum fencing and vinyl fencing are still significantly more expensive than this stock option. The price of a wrought-iron pool fence is largely impacted by the degree of decorative details such as scrollwork or circular separators. To keep costs down, choose simple black wrought-iron fencing with limited flourishes and embellishments. Wrought-iron fences are also ideal for families concerned about safety, because the thin slats allow parents to observe the pool area with an unobstructed view, while the vertical posts prevent climbing.
---
Hannah Wahlig began writing and editing professionally in 2001. Her experience includes copy for newspapers, journals and magazines, as well as book editing. She is also a certified lactation counselor. She holds a Bachelor of Arts in English from Mount Holyoke College, and Master's degrees in education and community psychology from the University of Massachusetts.